Monday, November 22, 2004

The Sculpture
Just came back from the opening night/vernissage for my friend the sculptress. The show is comprised of one or two sculptures from each of 10 students in a sculpting class.
A common friend picked me up and drove me to the show. Our friend has two pieces, both of women posing. They are beautiful pieces. She is a better sculpter than I am a photographer, but here is a picture of one of her pieces. If you do want to see the show, it is open over the next week from 11am until 6pm.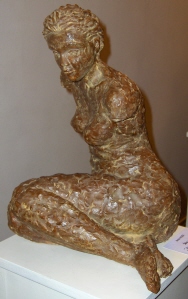 -- said Auntie M in Paris
8:54 PM

Comments:
I can't tell you how much I would like to go to see that exhibit. I think that piece is absolutely beautiful. I truly miss the art and culture of Europe. (No offense to Oklahoma.) Your friend is truly talented...but I think you already know that!
;)
Care
#
posted by
Carrie
: 1:34 PM
And I thought I was the only Aunt. Hello there. I'm in Brussels.
http://auntymarianne.blogspot.com/
I liked the sculptures too. Wish I could come over and see them, but I'm booked up with choir this week.
Nice to meet you.
Aunty Marianne
#
posted by
Aunty Marianne
: 2:41 PM
I do try to appreciate how nice it is to be able to walk out of my door and go to any number of art exhibits.
#
posted by
Auntie M in Paris
: 10:33 AM
Post a Comment