Tuesday, May 31, 2005

Roland Garros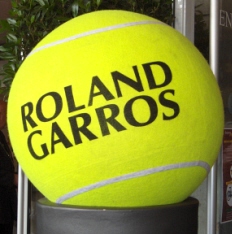 Yesterday my friend and I decided to visit
Roland Garros
to check out the French Open. We headed there in the early afternoon to see if we could buy some same day tickets. We could... annex tickets for 11 euro.
The annex tickets means that you can see the
smaller
, lesser known players in their matches (around six being played yesterday). We did not see the
big match yesterday
, between Marat Safin and Tommy Robredo. Apparently, it was pretty exciting with Safin smashing his racket and a court-side chair when he lost. The matches we watched were pretty tame... just a lot of grunting that so many players do when they hit the ball.
One match we watched was...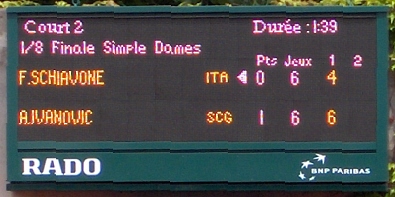 ....apparently, SCG represents Serbia and Montenegro. Personally, I hate getting called a
simple dame
:)
I'd been to Roland Garros in 2002 when the Americans played the French for the
Davis Cup
. That was a lot of fun and we saw some of the best tennis players, including one of France's favorites, Sebastien Grosjean.
Yesterday we were content to walk from
annex to annex
, watching a single boy's match here and a women's double match there. We also checked out all the stalls and won some stuff (and bought some stuff). Even though it threatened to rain all afternoon, it held out. It was a fun day and well worth the 11 euro.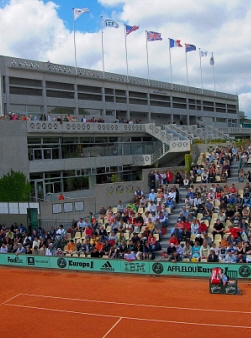 One of the annex courts at Roland Garros.
-- said Auntie M in Paris
9:36 PM