Tuesday, May 24, 2005

May Fair
On Saturday I took my son to a May Fair at the American School in Paris (ASP). My daughter wanted to stay home with her grandparents, who had just returned from a short trip to London.

We drove to ASP in Garches, a few miles outside of Paris. It turned out to be a beautiful day weather wise. The fair was held on the football field behind the school. As you can see from the photo, they had different moonbounces: a little kids moonbounce, a basketball bounce and a huge bounce jungle gym (where most of the kids played).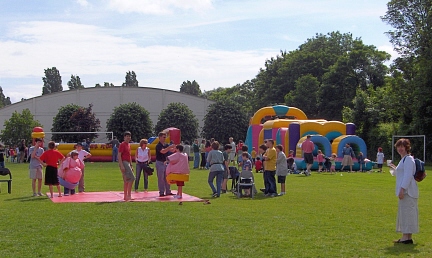 They also had lots of amusement park type games, like throw the toilet paper through the toilet bowl rim and win a prize. The activity which could have provided me with laughs all day? The sumo wresting area. The kids had to dress in the big, heavily padded, pink sumo outfits. Watching these little kids in these big outfits falling and needing help to be picked up was too funny. Here is my son and a friend before the match. My son laughed a lot as he tried to push his friend from the circle to win. My son: tall and thin. His friend: shorter but stockier. Together they had a great time.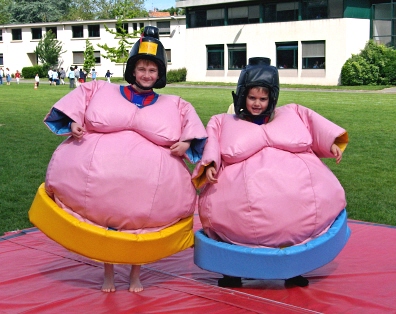 There was also food. The school is international and many parents helped prepare food from their country: Indian, Chinese, Japanese, Thai, French and a good old American barbecue. I haven't had or been to a barbecue in France so having a hot dog from the grill tasted so good. You just can't take the American out of me. (I see those of you nodding your heads!)

-- said Auntie M in Paris
8:34 PM

Comments:
hey! that's where i went to 8th grade and then half of 10-12th grade! i have great memories of my time at ASP!
and of the may fair. i had signed up to be a clown for an hour or so to sell balloons for my class. i ended up having such a good time that i finished up the day. we did not have the sumo wrestling back then though.
#
posted by
maryse
: 9:47 PM
Post a Comment