Monday, May 23, 2005

Parc Monceau
On the way to and from the Nissim de Camondo museum, my friends and I walked through
Parc Monceau
. There are so many parks in the 16th, I rarely bring the kids to the other beautiful parks, but Parc Monceau in the 8th arrondissement is lovely.
To get into Parc Monceau you walk through the most beautiful gilded gates designed by
Davioud
.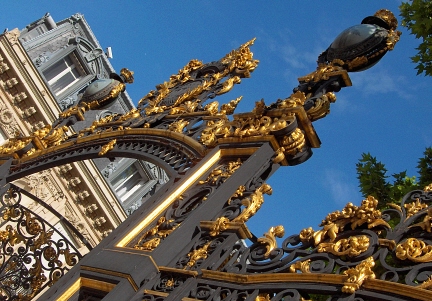 In 1778 Louis Philip II, the Duc de Chartres and Orleans, known as Philippe Egalite, bought the territory that would become Monceau Park. His park designer,
de Carmontelle
, was charged with designing "an outstanding garden bringing all times and places together." The result was a whimsical garden with fake Roman ruins, a Dutch windmill, a ruined fort and an Egyptian pyramid!
When the toll walls were built around Paris in 1787, the section that corresponds to today's Boulevard de Courcelles was surrounded by a ditch so that the Duc's view would be unobstructed. A beautiful rotunda was built instead of an observation post to fit in with the environment of the park.
>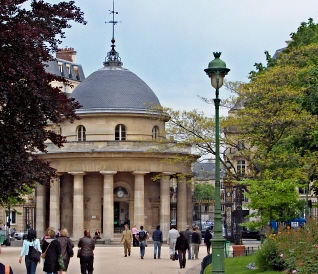 In 1793, during the French revolution, the garden was confiscated from the Duc. In the 1850s, the city of Paris bought the garden. The garden was inaugurated in its current configuration by the Napoleon III in 1861. Ever since, only statues have been added to the grounds.
Parc Monceau also has some beautiful flowers and playgrounds for the kids, making it a popular place for families on the weekends. It was certainly a pleasure to walk through on a lovely spring day.
-- said Auntie M in Paris
3:30 PM

Comments:
We were sooooo close to getting an apartment in the 8th b/c of Parc Monceau. The apt. was a hop and a skip away from it and I thought the place was beautiful. I'll never forget those gates either. Glad we ended up in the 16th though--more families like you! I miss Paris.
CMAC
#
posted by Anonymous : 9:45 PM
Post a Comment