Saturday, May 21, 2005

La Brasserie Lipp
We had recently read a Le Figaro Magazine review of La Brasserie Lipp (LBL) in my French class so it's been on my mind. It's one of those famous places you often hear about because it has so much history. When out on a date night and heading toward the 6th arrondissement, we usually just continue on to the Latin Quarter and have a crepe dinner. However, my husband was out of town and I didn't feel like calling a friend... where to go by myself? So I decided, why not just go to LBL?

I took the bus and got off near Saint German des Pres. I noticed this broken sidewalk fountain art and thought it was cool.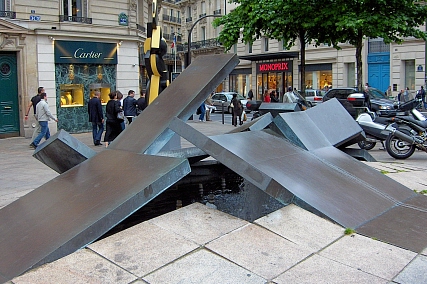 The French article said to get to LBL at 7:30pm if I didn't want to make a reservation. I got there shortly before 8pm and didn't have any problem finding a table. I sat on the main floor (not upstairs where they send all the tourists).

First, let me say I thought the service was terrible... downright American. As soon as I walked in I felt that they'd looked me over to determine how long I'd take with my meal. Proof of this happened when I was reviewing the menu, trying to figure out what I wanted.. my thoughts only with the menu...when the waiter approached with "vous avez choisi?" I know I should have said "no," but instead I just quickly decided.

I had the poireaux vinaigrette to start. I'd never actually ordered the leeks in vinaigrette before. They were good, but nothing I'd order again. The leeks were too well cooked and I would have liked a little more bite to the vinaigrette. According to the LBL article, their most popular starter is les six speciales perles blanches. I think that means 6 oysters?

For the dinner I ordered the choucroute Lipp: Speciale au jarret de porc. Basically it was a HUGE portion of choucroute/sauerkraut with a ham hock, and two different types of sausage. It was tasteful and filling. It was a little chilly out that night, so this French comfort food hit the spot. The article states that the most popular LBL dish is le steak tartare.

To go with the meal, I had a glass of brouilly. We used to only order Bordeaux wines when we went out, but recently we've decided the brouilly is lighter and goes with more food choices.

Overall another meal where I thought I could get better food elsewhere. There were a lot of French people there. It wasn't just tourists. Around 9:15pm they started sending people away that didn't have reservations -- most of those people were tourists. The French folks talked their way in, although some had to wait for 10 minutes or so for a table.

I didn't take any pictures of the meal because it just didn't seem right. I was glad I didn't because as I was walking out I discreetly asked the nice bus boy (who saw that I left a good tip) if I could take a picture of the menu. He told me all pictures in the establishment were "interdit" but he slipped me the menu to take with me.




-- said Auntie M in Paris
8:06 PM

Comments:
Hello, Auntie M.
The broken sidewalk fountain art that you found cool was offered to the city of Paris by the Quebec province (or was it the city of Quebec ?) in the end of the 70' It's called "débacle" which is a french word used in Québec which means "thaw", end of the winter when the waters of the St Laurent river thaw.. The "broken aspect" of it symbolically suggests a "lifting" of the ground through the impulse of the water coming out from the deepest of earth. Actually there's a plaque on the ground on the opposite side of your beautiful picture that explains the story and origin of that fountain.
I can see from your picture that the fountain is again animated with water. This must be very recent because it has been years since it's been out of order. Good news !
As for Lip, as far as I know, there are 2 standards of service and cooking according to the level where you sit down. Not too sure about that but I think the main floor where you settled is for diners who don't want to spend an entire evening at Lip. Quick and easy service then... but I hope some one will validate me.
Have you ever taken your children to the "Port de plaisance de l'Arsenal" where the canal St Martin begins as a tunnel under la place de la Bastille ? They'd love it. And beautiful pictures to be taken...
Jan-Yves
#
posted by Anonymous : 12:27 AM
Post a Comment