Saturday, May 14, 2005

Jardin des Plantes
Yesterday I had a walking tour of the Place Monge and Jardin des Plantes area in the 5th arrondissement. Place Monge is a great part of Paris with so much character. We started by walking down rue de Mouffetard, with a wonderful open air market. The street is filled with interesting stores, mostly food related. My friend said, "you'll never be hungry on this street!" It was nice to see some of the old markers, from days past, on the buildings indicating what used to be sold at some of the stores.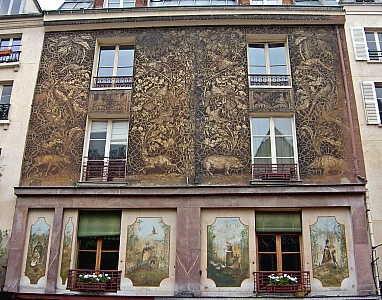 This was a butcher shop -- notice the detail on the facade.

We made our way through the area, past rue Monge, and reached La Mosque de Paris. This Mosque has an interesting history. First, the French government gave the property to the French-Arab community in appreciation of North Africa's help in WWI. Then, in WWII, the Mosque was used to hide Jews from the Gestapo.

In addition to a prayer hall, the Mosque has a souk, hammam, restaurant and salon de the. We walked through the Tea salon and restaurant. Here is one picture of the tea salon patio. I love the Moroccan architecture.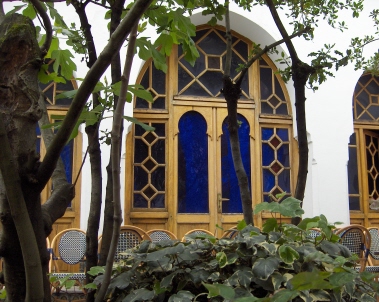 We walked across the street from the Mosque to the Jardin des Plantes, the main botanical garden in France. The Jardin contains the botanical garden, the Grande Galerie de l'Evolution, and three natural history museums. There is also a formal French garden, an English garden, an aquarium, a maze, greenhouses, and a small, old-fashioned zoo.

The Jardin was the initiative of the premier botanists of the 16th century. Initially the jardin provided medicinal plants to Louis XIII. In 1739, Comte de Buffon was named curator of the Jardin des Plantes in Paris and converted the King's garden into a research centre and museum.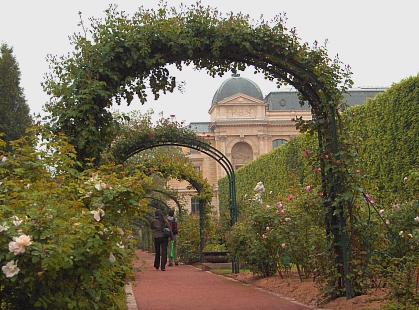 Buffon was perhaps best known for his Historie Naturelle, a 40 plus volume encyclopedia describing everything known about the natural world -- wrestling with the similarities and even common ancestry of humans and apes -- written about 100 years before Darwin. Here is a statue of Buffon (his heart was put into the statue, those romantic French), in the French garden and facing the Natural History museum at the Jardin des Plants.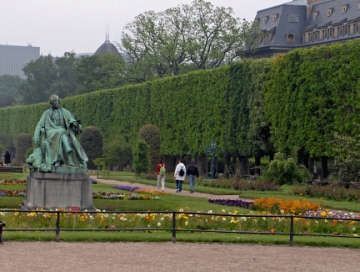 Even though it was overcast yesterday, it was a very pleasant day for an outdoor walk around the city. The 5th arrondissement is very interesting and diverse and a wonderful place to spend the day in Paris.

-- said Auntie M in Paris
1:19 PM

Comments:
Really nice pictures, especially of the mosque, but the bucherie is also very cool to look at.
I guess you get used to being surrounded with so much art on a daily basis. I think I'm going to have a sensory overload in Italy. I'm reading my Lonely Planet Rome guidebook right now, and there's more art and history stored in the Vatican Museums, for example, than I've ever seen in my entire life!
#
posted by
Joe
: 12:30 AM
Post a Comment