Friday, May 06, 2005

It Sounded Better in French ...
Haven't you ever thought.... things just sound better in French? The other night was proof of that for me. My husband and I went out to dinner with friends. The waiter informed our group that there was only four more of the recommended appetizer, the asparagus, left. Since there were four couples, each couple ordered the asparagus. My husband let me have the asparagus and tried to figure out what to order. He ended up ordering:

"la tarte fine a la tomate et mozzarella."
I'm not sure what my husband thought he was getting, but I had in mind some tasty crust with buffalo mozzarella and plump tomato slices. What came.....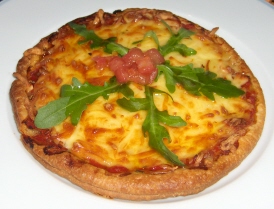 a pizza!
-- said Auntie M in Paris
9:56 PM

Comments:
Hi,
I read your blog and I like it alot.
Its great to read blogs written by females.
I work with kaysbargains.com, maybe you've seen it.
We have a pretty happy female following also.
So I definitely wanted to let u know that we are having a blogette contest.
We are having visitors vote on their favorite site.
First prize is $1000 and i definitely think u should enter ur site. (its free)
Here's a link to the contest: http://kaysbargains.com/Contest.php
Feel free to e-mail me if you have any questions.
Keep up the good work, your site looks great.
~Cindy
#
posted by
Cindy
: 5:43 AM
Post a Comment