Thursday, April 28, 2005

Grassy Subject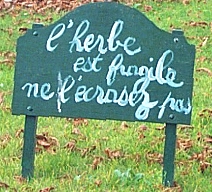 My US sister has been amused by my stories of woe regarding how the French don't allow people to walk, lay, play ball, breathe on the grass. So she sent me an article from the NY Times yesterday about keeping crowds off the Central Park grass.

While Paris is so concerned about its fragile city grass that often not even one child is allowed to play on the "pelouse," NYC has determined that Central Park will have to limit the number of people playing on the grass to 50,000. I guess the NYC grass is much heartier and tougher. We'd always heard that about the people. According to the NY Times article one of the angry opponents to the 50,000 limit accused the NY mayor's office of "seeking to maintain it as a lawn museum."

-- said Auntie M in Paris
10:15 PM

Comments:
Hi Auntie !
This is a message I have just sent to "pay-pup", the company apparently responsible for posting the "geek" message above:
Hello.

Posting anonymous messages on blogs to incite users to connect to your services is unwarranted and immoral.

Should this continue unabated, angry users might be forced to organize an international boycott, as well as to inform the press volubly and repeatedly of your unethical business practice.

You really should cease this before it gets out of hand.

L'Amerloque
I encourage all of you who are unhappy about this type of "viral marketing" to make your views known to the company responsible. Only in that way can blogs such as this one be preserved.
L'Amerloque
#
posted by
L'Amerloque
: 12:30 PM
Post a Comment