Friday, April 22, 2005

Butte Aux Cailles
Last night we went out on a double date with my French friend Marie and her boyfriend. I've known Marie for 4 years and last month she mentioned she had a "petit ami." Apparently, her boyfriend was a bit skeptical of all things American, which was basically a challenge in my mind (my mind does work in mysterious ways). So I proposed a night out together.

They chose the restaurant -- typical, great French food with an interesting kir au vin rouge (red wine kir) as aperitif. We ended up going to the boyfriend's neighborhood... the 13th arrondissement. What a lively area of town! We took the metro to Corvisart and walked up to rue de la Butte aux Cailles. Nearing the street the first restaurant we passed had a number of "this restaurant is wonderful and cheap" stickers on the door window (Paris pas cher, routard etc.) The place is so crowded and the evening so pleasant that around 20 young adults have flowed from the restauarant/bar to have their drinks on the little used road outside. You really feel like you've entered a village... where you know and like your neighbors.

Our friends said that the Butte aux Cailles area is one of the Bo-Bo places. I found an article that explains bobos....They are 'bourgeois bohemians' - or 'Bobos' - and according to the article they're the new 'enlightened elite' of the information age -- well-educated thirty-to-fortysomethings, they have forged a new social ethos from a logic-defying fusion of 1960s counter-culture and 1980s entrepreneurial materialism. I think that basically means that it's considered a "cool" neighborhood and the housing prices have pushed out the working class population.

Dinner was very good. Our friends said that many of the restaurants serve a good meal at reasonable prices. Here is my meal, it was delicious.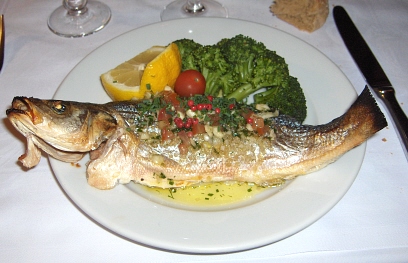 -- said Auntie M in Paris
9:18 PM

Comments:
Wowhow !! I love the Butte aux cailles when spring rises, it is such a cool place. DO you know it used to be a spot for alternative french rock in the 90's ? It s well over now, but....keeps some charm !!!
#
posted by
negrito
: 8:40 AM
Post a Comment