Thursday, April 14, 2005

The Country in Paris
Today there was a walking tour of La Campagne a Paris. La Campagne a Paris actually is a subdivision in the 20th arrondissement outside of the metro Bagnolet. We exited at Place Edith Piaf, where a statue of the famous singer stands, barefoot on the pavement surrounded by a little green gate. Apparently, she didn't live in the area, but her songs were about this part of "old" Paris.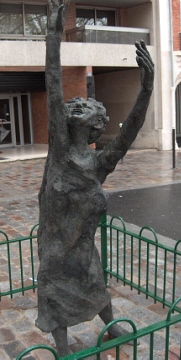 The earth underneath Paris is composed mostly of gypsum and sand - which are useful as building materials. When the quarry materials were used up the quarries were either turned into parks by Baron Haussmann or they were used as dumps for the material extracted from the building of the metro tunnels. One such dump, is the residential area called La Campagne a Paris, named because all of the 89 houses are single-family dwellings, and each has a small garden in front and a larger garden in the rear. It's an example of a successful housing project in Paris, where aesthetics and the environment were given careful thought. The progressives in France thought La Campagne a Paris was what worker's housing should be like: low cost, lots and houses about the same size, and lots of greenery and flowers.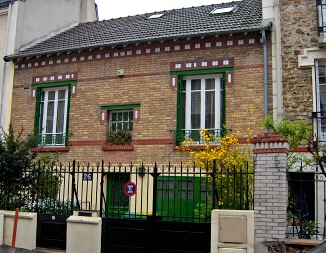 A house on rue Paul Strauss.

The houses are located on streets named after La Campagne's three major supporters: Paul Strauss, Irenee Blanc and Jules Siegfried. The houses were completed in the mid 1920s and provide an architectural and social statement, drawing our attention to brick, slates, and millstones (used to build homes for the poor in the past, now very fashionable) facades -- all with charming, but tiny gardens. When you are standing in La Campagne neighborhood, you really feel like you've left the city behind.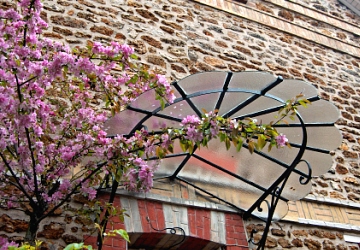 The houses are very charming with lots of special touches, like this glass awning.

-- said Auntie M in Paris
11:10 PM

Comments:
how are you today Auntie M?
that's a really interesting post. how do you find all these incredible places to visit??? really, i'm impressed.
#
posted by
irene
: 11:55 AM
Post a Comment