Monday, April 04, 2005

Jardin Ranelagh
On Sunday I hosted a brunch. I do not think I have had a brunch since I moved to France five years ago. Brunch is not very popular here. But I love brunch. You can pretty much offer whatever you want. I made a cake, quiche and a strata, and my sister brought some French specialties:
macaroons
and
canele
.
The invitees? There were some family friends from Brazil who were in town for a couple of days. The husband spoke French and the wife spoke English. It made for interesting table conversations. I also invited cousin Janet and her daughter. It was a nice group of people and it was very special for me. As I have mentioned, my mother died 15 years ago. Her only sibling, an older brother, died a couple of weeks ago and it felt like I lost my last ties with my mother. So it was really nice to have a cousin and friends of my mother in my home.
After the brunch, and the family friends left, Janet and I headed with our girls (my son was at another birthday party) to the Jardin du Ranelagh. It is a big park in my neighborhood and the perfect place to hang out on a sunny Sunday. People bring picnic lunches and then lay down on towels to enjoy the sun.
If you have read the book by Adam Gopnick,
From Paris to the Moon
, he writes about the carousel at Luxembourg Garden. The same kind of carousel is located in Ranelagh, where there are large hooks and the manager takes the old wooden horses out of storage every day and hangs them each on a hook. He walks the carousel around. It is completely manually operated. In the middle left of the picture you can see a green board. From that board metal rings hang down and children, who are each given a stake, try to put the stake through the ring to collect as many rings as possible. Believe me the kids get very competitive!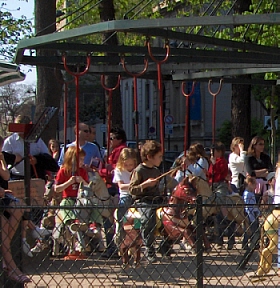 -- said Auntie M in Paris
1:19 PM

Comments:
I'm very touched by your love of your family and wanting to keep in touch. I think sometimes, that takes extra effort and for our kids, to instill in them people who are "connected" to them and how important they will be later on.
I know of the Jardin du Ranelagh - I was there one Wed. afternoon and there were tons!! of kids there - at what I knew was school hours. No, I didn't really know until later they weren't playing hooky.
Terry in SF
#
posted by Anonymous : 4:32 AM
Post a Comment