Saturday, April 02, 2005

Passy Walk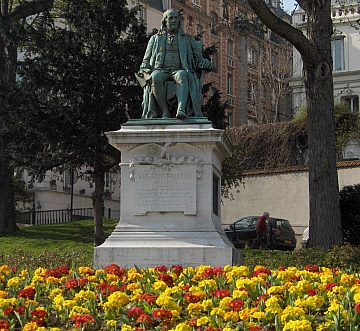 We had a tour of the Passy area yesterday. It's my neighborhood so I wasn't too excited. Don't I already know everything there is to know about the area where I live?

But once again I was surprised by all the information I learned yesterday and smug with the information I already knew. We started at the Eiffel Tower and from there headed into the Passy cemetery -- a huge presence in my neighborhood, but a place I've never visited. I was really glad to have a reason to check out this big walled off mysterious place that I often pass (the walls around the cemetary are very high). We talked about a couple of the famous residents and then walked past the Benjamin Franklin statue. In December 1776, Franklin arrived in France to represent the Revolutionary American government at the French court, America's ally in its war of independence. He was very popular because he had taken the time to learn the French language and French manners. He was also something of a celebrity because of his famous lightning experiment. There is actually a chiseled lightening rod on the building that stands at the place where Franklin lived in Passy.

While talking about the French - American relationship, our guide mentioned the Statue of Liberty. Apparently, the statue in US faces toward France. The replica here, on the Isle de Seine, faces toward the US.

Finally, we walked through a part of Trocadero park. My children often play here. When we leave the park, we always pass by this rustic looking rock stairwell. I found out that this walk was created for the 1937 World's Fair and is one of the few remaining things that still exist from that event. The statue in front is Francois Joseph Paul Compte de Grasse, who fought with Lafayettte at Yorktown.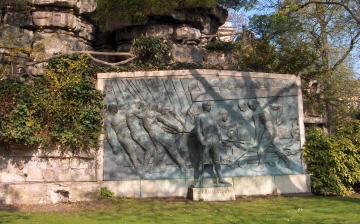 -- said Auntie M in Paris
8:44 PM

Comments:
Hey. I'm Anna and I live in the US. This summer I'm going to go visit Paris and I'm super-excited. I have family there but I cant wait to see some of the stuff you described there. It sounds so great, even though they do hate Bush (I support him :) ). Anyways, thanks for making this because it makes life a lot easier for a fifteen year old (me!) to know what to see when I go visit Paris.
#
posted by Anonymous : 5:41 PM
i was at La Muette yesterday, had lunch at restaurant La Gare there. we were not very far away from each other! hope you had a great weekend.
#
posted by
irene
: 8:57 PM
Hi!
I'm going to Paris in 2 weeks and I'll be living in the Passy neighborhood too! There will sure be a lot of things to see!
steph
#
posted by
Steph
: 8:21 PM
Post a Comment