Friday, March 25, 2005

Pierre Herme
Thursday it rained all day. At least that's the way it felt. So to cheer myself up, I decided to make a pilgrimage to Pierre Herme.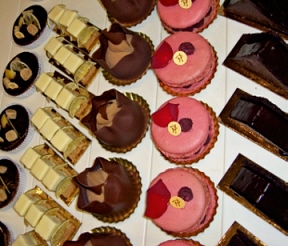 The Pierre Herme patisserie is located in the 6th arrondissement, on the other side of town for me. I thought I'd buy a holiday dessert... maybe an Easter egg cake or something like that. There were no holiday cakes, but there were a number of rabbit and chicken chocolate molds.... regular and dark chocolate. I bought two for the kids (dark, bien sur) to have on Easter morning.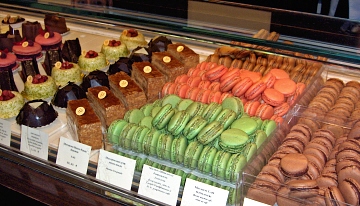 I bought my husband and I two desserts. After many minutes of deliberation, I choose the carrement chocolat (chocolate cookie, chocolate cream, chocolate mousse topped with a thin layer of a chocolate bar with a gold square for decoration) for myself. I bought my husband the Emotion Cristal (creme brulee with the Sechuan pepper flower seasoned with mint). Both desserts were very good, but not extraordinary. After hearing so much about Pierre Herme's desserts, I was a little disappointed. Apparently, he is well known for his inventive macaroons. Next time, that's what I'll try.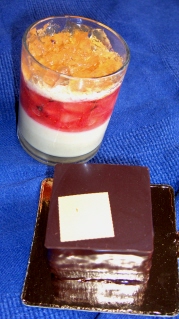 I must note that when doing a google search, I noticed that Clotilde also had a recent experience with Pierre Herme desserts and she has a much more descriptive review.

-- said Auntie M in Paris
10:02 PM

Comments:
Oh, so beautiful!
Don't you hate it when you get all excited for the experience of a lifetime and *poof* it's just ok.
BTW, do the French do Easter like Americans?
#
posted by
BohemianMama
: 1:41 AM
Post a Comment