Monday, March 21, 2005

Up a Canal
For Sunday, we reserved five places on the
Canal St. Martin
boat ride. There are two boat rides a day, at 9:45am and at 2:30pm. We got up early and took the morning ride along with our son's best friend.
The boat was pretty full. There were about 100 people aboard and yet only 6 or 7 children. Our ride began at the
Paris Marina Arsenal
and ended at the Parc de la Villette. Like the other Paris canals, Saint Martin canal was built by order of Napoleon I in the early 1800's. It is 4.5 kilometers long. The ride lasts 2 1/2 hours and takes you through 4
double locks
.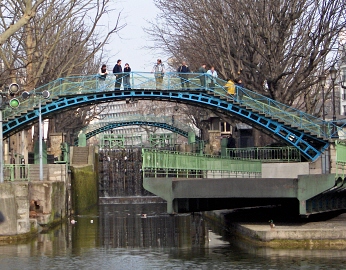 It was a beautiful day. The first 18 minutes we rode through a tunnel or underground vault and then we were in the sunshine for over two hours. We should have brought sunscreen and sunglasses. The ride takes you past some interesting sights of Paris, nothing well known, but certainly a different side of the city...places I might want to go to sometime... like Quai Jemmaps. We were surprised that on nearly each bridge of passage, people were waiting for the canal boat to come through. The people were ready with cameras as the boat was secured in a "lock" and enough water was added until we could proceed to the next lock.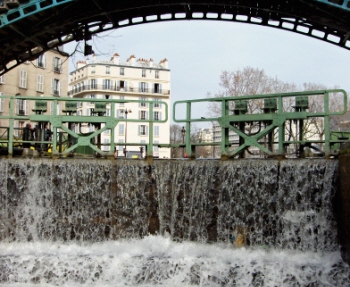 The kids loved the first 9o minutes. They loved watching the water fill up in the lock until the boat rose to the next level of passage. There was certainly a lot of action. But the boat was filled with mostly adults. I'm not sure what they thought of the ride. The boat company does hand out a nice little pamphlet of the different locks on our route and some of the history of the places we pass.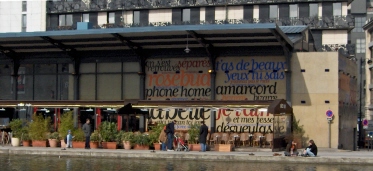 This place looked so interesting... Quai de Jemmaps??
The canal ride ends at
Bassin de la Villette
. We got off and headed straight to
Parc de la Villette
. There is a wonderful, very large playground area for kids of all ages. The kids played there for a couple of hours with a break for lunch. There is also a very fun science museum for the kids here, but we didn't go yesterday. A very enjoyable day.
-- said Auntie M in Paris
7:22 PM

Comments:
"M"
Thanks for the textual and visual post card of your trip up the canal. I spent a wonderful day having a leisurely bike ride along this same canal in 1999, or 2000, with my friend (and your fellow expat) David. It was spring and the weather was a bit cool, but the sun was out and this made for perfect biking conditions. So, as I sit here at my desk in gray, damp Detroit, I'm wistfully thinking about the budding green of Paris, and friends and family there. Ciao!
#
posted by
Rocher Detroit
: 8:23 PM
Post a Comment