Tuesday, March 15, 2005

Sacre Coeur
On Sunday the family, along with the hubby's aunt and my son's best friend, took a drive to Sacre Coeur. Yes we drove. Of course it took us a while to park since Montmartre is closed to traffic on Sundays. It was the first sunny, warm day in a very long time and it felt great on the mind and body. We bought some very expensive crepes (note to self: shop for bargains) and walked around the artist colony next to Sacre Coeur where there are beautiful oil paintings and sketches of various Parisian sights. The artists will, if you have the money, create art for you ... pastels of your face, caricatures, and shadow silhouettes. We walked into the Sacre Coeur and bought a medallion (you're not surprised, I know).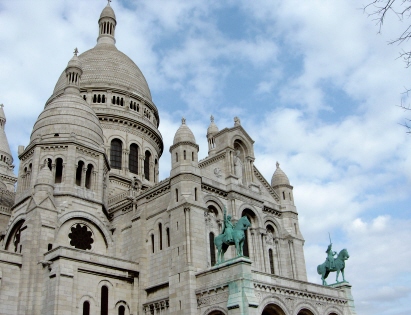 After we'd seen the sights near Sacre Coeur, we headed down. I took the stairs and the rest took the
funicular
. We met at the little park at the bottom of the hill. There are a couple of slides, a little play house and a carousel. The kids played and then took a couple of turns on the carousel while the adults enjoyed a bit of sun on the face.
We had parked right in front of
Le Chat Noir
-- probably not the original. Unfortunately on the way to our car, since Pigalle (at the bottom of Sacre Coeur) is in the red light district, we had to pass about 10 sex shops along the way. Can someone please tell these people that putting colorful stringed beads for a door, playing loud music and hanging blinking lights actually attracts children? The sign above the door says minors are forbidden. My son can read, but not when it's above an 8 foot door. So my son ran in and out of the "bead door" before he heard me say "stop!" I suppose I'm glad his friend didn't do it too so I didn't have to explain anything to his mother.
-- said Auntie M in Paris
8:46 PM

Comments:
See now we had the urge to buy a medal but couldn't pluck up the courage to use the machine, as its right in front of the door and the woman renting out the audio guides....
We wanted one we are just cowards
Pigalle is just a child mine field isn't it, and its flashing lights everywhere
#
posted by Anonymous : 9:09 PM
Post a Comment