Tuesday, March 08, 2005

Best Laid Plans
The Members of the International Olympic Committee (IOC) are coming to Paris tonight and boy is the city dressed up. There are the neon signs, there are the special metro tickets, there are signs and posters everywhere and now.....on the way to school today my son points out that the buses have flags. Lo and behold, the buses were dressed up today with a 2012 Paris flag on each side. So I started reading the articles about Paris welcoming the IOC and found this article about how Paris is turning gaudy and that the city is decorated like a whorehouse to try to win the 2012 Olympics! Really?!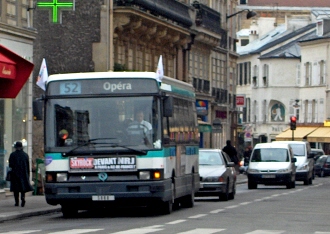 While Paris is burning with desire to host the 2012 Olympic games, others have decided that this would be a really good time to set up a protest. Apparently, the "leading unions have called for a day of strikes and demonstrations throughout the country to demand pay rises and to protest against changes to the 35-hour working week." My French teacher read that city officials did ask the protestors to put off their strike for a week, but they refused. Wonder why? I must note that in one paper the Mayor of Paris is quoted as saying that "unions have made clear their support for the Paris Olympic bid and their desire not to disrupt the work of the commission." Guess we will see about that.

So all of you arriving or leaving Paris on Thursday, check your transportation information before you leave your home. More details about the strike will be released tomorrow.

On a final and unrelated note.... my son has recently built up the confidence to start trading his yu-gi-oh cards. I took a picture of my son and his friends at the park yesterday. They could be anywhere in the world trading cards and I guess that's what I liked about the picture.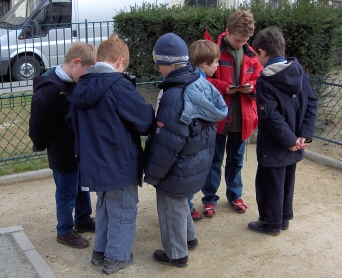 -- said Auntie M in Paris
10:42 PM

Comments:
That's wonderful, trading the yu-gi-o cards. I bet they have "deep" discussions about the different ones. I have seen (w. Pokeman, Magic and the yu-gi-o) binders! of them - that's serious stuff.
Curious to see how the strike plays out in Paris. Let us know.
Terry in SF
#
posted by Anonymous : 11:56 PM
Post a Comment