Monday, March 07, 2005

Ticket to Ride
Out of all the possible souvenirs to buy in Paris.... would you buy a metro ticket to frame? I guess that is what the RATP is thinking. From February 16 until March 31, 2005 you can buy a special "Ticket T" to support Paris as a candidate for the 2012 Olympics. Along with the neon signs around town, this is another step to show the Members of the Olympic International Committee how seriously Paris wants to host the 2012 Olympics. Allez Paris!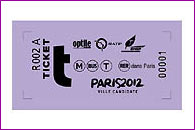 It costs the same amount as a regular metro ticket, 1,40 euro. They've only produced 10 million of these tickets, so buy yours before they run out!

-- said Auntie M in Paris
10:32 AM

Comments:
Hey, here via Michele and I LOVE it!! I have never been to Paris but would love to go...it is my daughter's favorite place in the world. I'll be back, for sure.
#
posted by
panthergirl
: 2:32 PM
Post a Comment