Friday, February 18, 2005

Balzar
When we first arrived in Paris, a new book had been published about an expat living here. Adam Gopnik's, Paris To The Moon, was one of my first reads and I took it all very seriously. I visited most of the places he talked about in the book, Deyrolle, L'Oiseau du Paradis and rue de Seine my first year. One place he wrote about a lot... Balzar's Brasserie.... but I never found the time to eat there.

A few months ago my husband and I had dinner there on our date night. After a build up of four years, I was very disappointed with my meal. It was fine, but there are so many more places serving really good food in Paris. I know the owners changed since the time he used to eat there, but could the food have degraded that much? Just one of those things I should have kept pretty in my mind and not actually experienced.

I passed by the Balzar Brasserie, in all it's bright lights and glory, yesterday.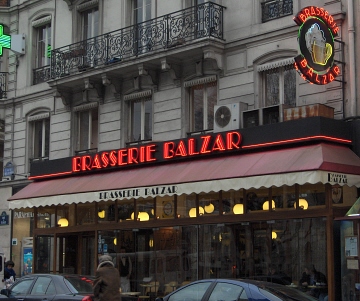 We are off on our ski week today. I will try to post occasionally, but I'm not sure how that will work out. Hope you have a nice week without me. I'll catch up on your blogs when I get back.

-- said Auntie M in Paris
10:12 AM

Comments:
Oh, I remember this book! Being half-french and half-american, I always have a morbid interest in how americans view the french and vice versa. This particular book HORRIFIED me. The author didn't get France at all, and just whined about everything. I remember a passage where he complained about the towels in his gym. Sic. He also makes fun of the french at every turn, for example he mocks the french for not knowing what to do in a gym. He had a grating tone of "you know how silly and quirky those french people are". Aaaargh! I can understand that if you're living in a foreign country, you're constantly off-kilter. But you're in trouble if you start thinking of your own country as being "normal" and the country you're in as doing everything wrong. It aggravates you and the "wrong" people around you! Now do you see why I said I had a morbid interest in these books? I know they're going to tick me off and yet I can't stop buying them...
#
posted by
veronique
: 11:40 PM
Post a Comment