Wednesday, February 16, 2005

Bicycle Race
Well big news was released today.... the Discovery Channel Pro Cycling Team's Lance Armstrong announced that he will be competing in the 2005 Tour de France (TdF). He will be seeking his seventh straight victory in the famous bicycle race. In 2004, Armstrong made history by becoming the first cyclist to win six Tours de France and we were there to see it happen.

We've been watching the TdF for three years straight. The first year we didn't know where to position ourselves and waited for about 3 hours for a 10 second glimpse of the riders. Two years ago was a lot of fun because it was the 100th anniversary of the bike race, and to celebrate, the TdF race started in Paris for the first time since 1950 with a traditional finish on the Champs Elysées. We walked about 5 minutes from our home, sat on the hill by the statute of Benjamin Franklin and watched Lance speed by to at the start of the race. We also watched him win, about three weeks later, on the Champs Elysees. It was very exciting.

Last year was very fun too. First, the TdF course went right past my sister's front door in the south of france. Of course, when she found out about this, she invited us down. See the picture below with my son on my sister's balcony. You can imagine our GO USA didn't go over too well. In fact, my sister's neighbors quickly put up a sign of their favorite... Richard Virenque.

A couple of weeks after that we rode our bikes to the Champes Elysees to watch the competitors cross the finish line. At that point, everyone knew Lance had won an historic 6th time and there were a number of Texas and American flags on the famous avenue. They played the American national anthem and all these Americans were walking down the Champs Elysees singing out loud and waving their flags. Then, because he's dating Sheryl Crow they played "All I want to do is have some fun."

I'm really looking forward to the TdF this year even though there is no major anniversary or record to break. I'm not even sure I want Lance to win this year, but I'm sure he will. Have you ever read his books, e.g., It's Not About The Bike? The man is driven. Anyway, it's lucky 7 for him.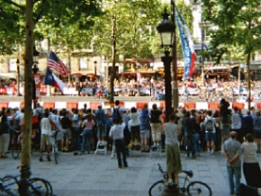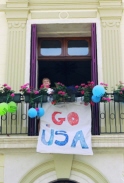 -- said Auntie M in Paris
9:39 PM

Comments:
CMAC, You Texans always stick together. I think it will be great if he wins, but then again, it would be great for someone new to break the records. Either way, it will be a great race to watch this year.
Terry, There are crowds in the big cities. My sister lives in a small town so there weren't too many people. The kids all got a lot of TdF stuff when the advance cars drove by with their goodies. The crowd on the Champs Elysees... it's packed.
Chenoah, Thanks for your visit too!
Oz, Isn't that a great feeling?
L'oiseau, That's why you have to stay in a spot, like the Champs Elysees, where they ride past you a few times. You feel you get your money worth then.
Maryse, I understand how you feel. I felt so sorry for his wife after reading his book because she went through sooooo much to bear his children and now they are divorced and he's dating a music star and he's a star himself. It just doesn't seem right.
Vivi, I agree.
L'A, Texas. What can you say??
#
posted by
Auntie M in Paris
: 6:16 PM
Post a Comment