Tuesday, February 15, 2005

My Private Class
Today was another cold, light snow/light hail, blustery kind of day. A little sun would go a long way for me.

At my afternoon French class, a small class to start with, no one else showed up today. I had the teacher all to myself. She told me I'm getting improving my pronunciation and my comprehension is ever better. My pronunciation? She's just being kind. However, I must agree, I do understand a lot more now when I'm spoken to. It really helps make me feel more comfortable in my life here. My newest "thing" is to look straight at those folks carrying maps or just looking lost ... with my go ahead, ask melook. Today, someone almost had me stumped because the street they were looking for is closer to the next metro stop, they clearly got off too early, but I gave them directions anyway. It's just one of my strange little tests that helps me practice my French and hear how French people pronounce some of the street names.

So today I could ask my French teacher all sorts of questions that have been bothering me. In the end, we focused on three subjects over the 90 minutes:


1. Review of a New Year's Wishes cartoon, Le Regard de Cabu that I found in the Paris Mairie/Town Hall Magazine. That cartoon link gives an example of Cabu's work on page 5. This is all I could find in English about Cabu, a very popular French comic creator. I really enjoyed going through each cartoon box as the teacher explained the social or political intent behind the pictures and words. Very interesting. Made me feel a little closer to understanding what some of the major issues are in France.

2. The Present Subjunctive. What?? It was her choice. Basically, I learned about its use... when?.. after a verb that expresses some kind of insistence and after a verb that expresses doubt or fear or some other emotion. For example: Je doute qu'il vienne/I doubt that he is coming/. Honestly, I don't think I'll need it much in my normal conversation, but my teacher swears it will be very useful for me.

3. I am forever perplexed by the certain grammatical uses of "en." I've had many other basic things to worry about, like speaking in the past, e.g., I went out last night... glad to be able to say that now, but the "en" thing was a mystery to me. I think I understand it a bit better now. Hope she goes over it again when the whole class is there. Sometimes I really need to hear things twice or thrice.. At least she thinks I'm improving.

Here is a picture I took yesterday as I was getting on the metro at Edgar Quinet in Montparnasse. Sometimes I think there is art and beauty everywhere you look (except down, bien sur) in Paris.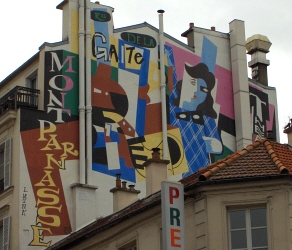 -- said Auntie M in Paris
10:48 PM

Comments:
Hi Auntie –
Yes, the "en" is épineux, but pretty straightforward (smile)
This simple example (RB above is spot on, of course) is illustrative of the problem.
USA: Do you have children ?
FR: Avez-vous des enfants ?
USA: Sure, I have four.
WRONG FR FROM US LEARNER: Bien sûr, j'ai quatre.
FR: Bien sûr, j'en ai quatre.
See ? The "en", as RB points out, is "of them".
It could also be "of whatever you're referring to" or "whatever you're talking about" or even "some" or "any". Viz:
USA (holding out a bowl of potato chips): Want some ? (the "of this" is "understood")
FR (qui tend un bol de chips): Vous en voulez ? (or "En voulez-vous?") (the "en" is not "understood": it's required and is, basically, equivalent to – acting as - the "some" …)
USA: Does he need some money ?
FR: A t-il besoin d'argent ?
USA: No, he doesn't. ("need any" is understood)
FR: Non, il n'en a pas besoin. (the "en" is required).
I fully agree with RB about the present subjunctive. It is very, very useful !
Don't worry too much about all this, though: it comes with practice. It's like that old computer proverb: "Never ask why, always ask how." The French have as much trouble with "make" and "do" and "say" and "tell" as we do with "en" and "y". Nous n'y pouvons rien !
L'Amerloque
#
posted by
L'Amerloque
: 1:18 PM
Post a Comment