Tuesday, February 08, 2005

Mardi Gras
Today was Mardi Gras and those in the maternelle/pre-k section of the school celebrated the holiday. The children dressed in the fashion of the those of Brittany past. That means the girls wore aprons decorated with lace tops. The boys wore black pants and black wide-brimmed hats. After lunch, to celebrate Brittany and Mardi Gras, crepes were prepared for the children by a woman dressed in traditional Breton clothing (I'm told -- obviously, I wasn't there!).

After the gouter/snack of crepes they ate candy, drank juice and threw lots of confetti around the play area at school. Who said they don't have fun at school? Ok, so I did. Well, today the maternelle children had a lot of fun and were pretty much on a sugar high when the parents got to the school for pick up.

To run off some of the sugar and because it was a wonderful spring day here, some of us took our kids to the park. While my son was playing soccer in the fenced off grassy area (just for show, not for play!), my daughter goofed around with her friend. This friend goes to another school, an international school. At that school, they celebrated Chinese New Year today. Don't the girls look cute together?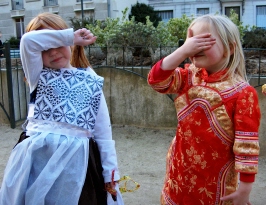 -- said Auntie M in Paris
6:30 PM

Comments:
That's a wonderful celebration - Mardi Gras at school. I can imagine the sugar energy level at school when you came to pick them up! And the blond hair contrasts well with the red dress! (Phonetically) Next time you see your daughter's friend you can say "nay-ho-ma?" (how are you?). My son's school shares space with a Int. Chinese school, I wonder if he got to see some of the Chinese celebrations too.
You know, you are a cool mom - in most of your entries you mention you are doing something for your kids - nice.
Terry in SF
#
posted by Anonymous : 9:04 PM
Post a Comment