Monday, January 31, 2005

A day in the life
Lest you think my life is completely glamorous and filled with non-stop adventure, there are plenty of days like today. Shopping is virtually a daily requirement and of course there are many other errands. Today I finally decided to go to get a copy made of our cave/basement key as requested by the landlord. Given the size and age of the key, you don't just pop into any minit-key shop and wait for them to make it. We have been to probably twenty places and finally was directed to store that doubles as a metal work shop. Remembering that the store opens at 10:00am I resolved that today, after four months of this and that, I would get the stupid key made. How did I know it was open at 10:00am? I'd ALREADY been there once at 2:00pm but it was closed for lunch until 4:00pm. Now it's not exactly in the neighborhood but I had time, so I hiked down there. Don't you hate the feeling as you are walking down the street toward the store and it looks dark. Hmmm, is it because the sun is shining outside? No. Maybe they are late opening up? No. Hmmm ... lights really are off because the store. is. closed. on. Mondays. Ugh. Sometimes the craziness of being open 24 hours a day 7 days a week like in the US is appealing.

So I walked home. I'm told when I move back to the US, one of the things I'll miss most is walking everywhere. I don't remember walking much when I was growing up. We'd take the car pretty much everywhere we needed to go. In Paris, it's the opposite. I walk everywhere possible, only taking the car when necessary.

Having said this, I must admit, I do miss the car for grocery shopping -- which was next on my list of tasks. People ask me why my daughter still uses her stroller. Here is the answer: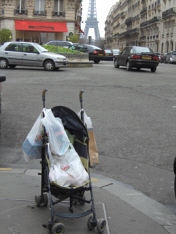 I finished up and had about five minutes at home before I had to pick up the kids from school. So what did I do in those five minutes? I called my husband and told him it was his problem to get the cave key made.


-- said Auntie M in Paris
10:12 PM

Comments:
Yes, strollers are multifunctional (I used to use ours for the laundromat.) Well I guess you won't have to worry about being blocked on the street and it's definitely more manueverable than the Smart car. And, you can keep it closer to you at all times, fits on narrow sidewalks, no emissions, no gas to buy. A very good use.
Hope you get the cave key made soon w/o more frustration.
Terry in SF
#
posted by Anonymous : 12:07 AM
Post a Comment