Wednesday, January 26, 2005

Valentine Package
I got a care package today from my belle-mere.. an envelope of stuff for Valentine's Day --a table cloth, cards, and puzzles. Although the French are amorous, they do not believe in Valentine's Day for children. There is really nothing to buy in the stores for the kids. Nothing. I've looked and looked. About the closest you get are these cookies.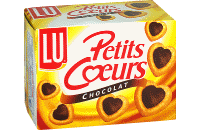 My second year here, I pushed for a Valentine's Day party in my son's English class. I called every mother to ask her to bring something in for the party and to have their child prepare Valentine's Day cards. One of the French mothers informed me that it is not a day celebrated by children, just adults. I have found that to be the general attitude here.
Valentine's Day passes in school here like any other day. There are no Valentine's Day cards to send to your 'sweetheart' in class. There are no boxes of sweet tart candies saying 'You're cute!' to give to classmates. There are no lace heart doilies to use when making a card for your mother. I know. I've looked.
My children have lived here for nearly 5 years. They have no idea what happens on Valentine's Day in the US (I assume giving cards to everyone in class is still done?). But I miss all those things for them. If you're in the 16th, my apartment is the one with hearts on the windows (thanks belle-mere..).
-- said Auntie M in Paris
8:24 PM

Comments:
I remember being really excited about valentines day when I was little, but toward the end of elementary school, it was really frustrating. you had to worry about getting less things than other people, and those candy hearts with the messages, suddenly you had to be really careful about who got what ones, etc.
Then, it was middle school, when kids could buy you "lollygrams" (write a note on a paper and have it delivered to you during homeroom, attached to a lollypop), but at that point, no one was obligated to send you one, so the whole thing became a lot more stressful.
I dunno, somehow I think kids are saved from a lot of stress and heartache by not doing this here. I'd much rather see them get a real understanding of Halloween.
#
posted by
kim
: 10:38 AM
Post a Comment