Monday, January 24, 2005

Amiens
The absolute best part of being apartment dwellers is the fact that we have no household chores on the weekend. When we owned a house we rarely left for a weekend trip. Now it's easy to wake up on Sunday morning and say let's take a trip!

So yesterday we decided to take a 90 minute trip north to Amiens. We've taken many weekend trips over the last four years, but we hadn't driven to Amiens. In 1981 the Cathedral of Notre-Dame at Amiens was inscribed on the UNESCO World Heritage list. It is the most amazing and breathtaking Gothic Cathedral. It is an extremely tall and large building, which means it's pretty much impossible to take a full picture of the Cathedral unless you are very far away.

The kids enjoyed the visit to Amiens because there were a number of interesting things to look at like a statute of Joan of Arc and lots of beautiful stained glass. However, the most interesting aspect for the kids was the labyrinth in the center of the Cathedral. The path arrangement is octagonal and you follow the black line. Here are my kids with others walking the labyrinth.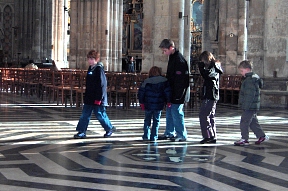 It was freezing cold, so we didn't walk around the town too much, but it was worth the trip just to visit the Cathedral. Because of it's size, it was difficult to take a photo of even the facade of the building, so here is a snap shot of one interesting section. It looks very similar to Chartres Cathedral of Notre Dame. In fact, when Chartres was finished, work was started on Amiens.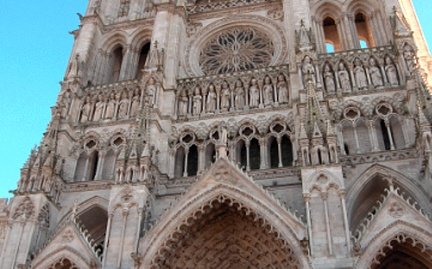 -- said Auntie M in Paris
10:02 AM

Comments:
You have a great site. Hubby and I went to Paris for our honeymoon, (2001 - BTW we are from Australia)and memories of tears falling whilst listening to a harpist on the steps of Sacre coeur are with me now. I truly envy you. Paris is the best city on earth, enjoy it on my behalf
#
posted by
Jade
: 11:56 AM
Post a Comment