Friday, January 21, 2005

Stores Glorious Stores
In this season of store sales even those of us who say we will not go shopping are tempted by that siren call of a good deal. The following is a little snippet of shopping in Paris. It is does not include all information about Paris shopping, but I thought it might be helpful for those of you thinking about coming to town.

There are plenty of places to go shopping in Paris. There are the major department stores: BHV, Galeries Lafayette, Printemps, La Samaritaine, and Le Bon Marche. If you are looking for (or admiring) haute couture outfits, then head towards 'the golden triangle' which extends from avenue Montaigne and George V to Rue Royal, rue du Faubourg St. Honore. In this area, you can find the world famous fashion designers of Cardin, Yves St. Laurent, Guy Laroche, Nina Ricci, Givenchy, Christian Dior, Louis Féraud, Hermes and Chanel, among others.

Around the area of St. Germain des Pres you can find wonderful small stores while getting exercise by walking down the major and beautiful boulevard that stretches over 3 arrondissements (the 6th arrondissement near Odeon is best). There are also charming little stores in the Marias district in the 4th arrondissement.

Finally, another major area for shopping is my neighborhood, the 16th arrondissement. There are two areas: ave Victor Hugo near the Etoile and rue de Passy. Although I've pretty much resisted (except for that shirt)shopping I finally had an hour or so free yesterday to check out my neighborhood stores so I walked the length of rue de Passy. I didn't find anything, but I did try some stuff on. Here is a picture of some of the stores you'll find on rue de Passy. In this picture, you can see Alain Manoukian, Caroll, Kookai, Regis Chocolate(delicious stuff!), Guerlain, Lancel, and Christofle. Not bad for a short block, huh? The other benefit is that the crowds are not as bad as the big department stores.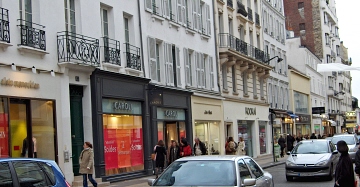 Also, if you ever need help shopping, a friend owns a business that could help. She'll take you shopping, like a tour guide to find the best places for your budget.

-- said Auntie M in Paris
10:47 AM

Comments:
I'll save this wonderful post for the next visit. It truly is a nice concise write up of shopping! Your first sentence sums up many of us re: sales - "...tempted..."
Passy has a very soft place in my heart - my son stayed there as a 5th grade exchange student and "went to" ecole Chernoviz. It was the first time (out of the country to boot) that we felt fine he walked w/o an adult in a neighborhood.
Hope your weekend is truly wonderful, Terry in SF
#
posted by Anonymous : 2:01 PM
Post a Comment