Friday, January 14, 2005

Friendly Shopping
My friend asked if I'd like to go shopping with her this morning at one of the large department stores. We met at our local metro stop and decided to shop at Galeries Lafayette. The metro drops you right off to the basement of the store. You don't even have to walk outside.

I wouldn't have gone to one of the major department stores on the third day of the sales if I wasn't with my friend. But, I was surprised that the store was not mobbed with people. My friend bought two handbags (although she is having buyers remorse on one...) and a fitted coat while I was there (she stayed when I had to leave to pick up my daughter). She inspired me to find something I really needed and apparently it was a Christian Lacroix shirt marked down by 40%. For the first time since I've been in Paris I actually used my 10% off card that all Americans seem to have, so I saved even more money. I love my purchase.

Here is a picture of the dome at the Galeries Lafayette store.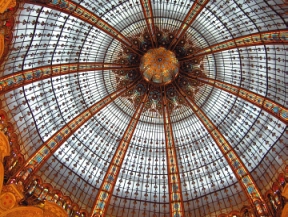 -- said Auntie M in Paris
10:16 PM

Comments:
Ohhh how I miss those Paris sales. I got a lot of great deals the two+ years I lived there. You need to expand your horizon Auntie M and get out there and shop!!! Especially since you have Euros and are not getting hammered by the dollar.
Love all your photos. I miss Paris.....
CMAC
#
posted by Anonymous : 2:31 AM
Post a Comment