Friday, January 07, 2005

Musee D'Orsay
I took the bus to the Musée d'Orsay for my Friday walking tour. With its location right next to the Seine, I think it's by far one of the most beautiful buildings in Paris. It started out as a train station in 1900, opening its doors for the first time to coincide with the World's Fair in Paris. By 1940, the station was obsolete because the platforms had become too short for the modern, longer trains. After many uses, and being spared the wrecking ball at the last minute in 1970, it opened its doors as a museum in 1986. For now it holds a range of art from 1848-1914, including but not limited to the impressionist period. The impressionist collection was originally situated in the Jeu de Paume. You can always tell the last time a visitor was in France if they ask to go to the Jeu de Paume to see the impressionists -- it's been more than 15 years since the move to Orsay.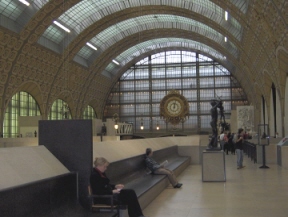 It was a wonderful tour. We focused on a few of the most famous paintings in the museum. We also looked at a sculpture by Camille Claudel. She was the student and mistress, for over 10 years, of the sculpture Rodin. Although Rodin wasn't married, he had a long-term partner, Rose Beuret, who bore him a son. The sculpture below (L'Age Mûr) is by Claudel representing her break-up by Rodin and his going back to Rose for good. Claudel is the beautiful one on her knees begging him to come back. The woman envelopping Rodin, Rose, looks like an old hag. It's a really powerful piece.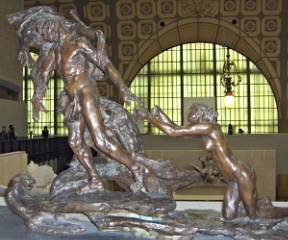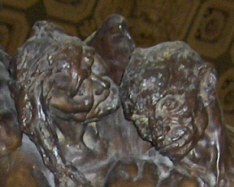 -- said Auntie M in Paris
11:12 PM

Comments:
I've seen some Rodin at the Mary Hill Museum here in WA state. It is so beautiful.
#
posted by
BohemianMama
: 12:03 AM
That is definitely on my list of places to visit when/if I visit Paris. What a beautiful museum, and a heartbreaking work of art.
#
posted by
Margie
: 5:13 PM
This is the first post of yours that has made my stomach hurt from wanting to be back there ...looking at that piece...oh wow. Thank you so much for posting that, and the story behind it. I love Rodin's work --We visited the station, but we didn't spend near enough time there...that's another story. Maybe I will post about that someday ;)
>After many uses, and being spared the wrecking ball at >the last minute in 1970, it opened its doors as a >museum in 1986.
Can you imagine...the building is sooo beautiful.
You have made my day, thank you...
Care
#
posted by
Carrie
: 5:58 PM
Post a Comment