Friday, January 07, 2005

2012
Paris is a refined, beautiful, formal place. At least that's what I thought! I nearly jumped from my bus seat this morning when I saw the latest 2012 sign. It's NEON and on one of the older buildings in Paris, the National Assembly! Apparently, the 2012 signs will also adorne the French Assembly, the City Hall and four bridges until July 6, 2005.

So I pushed the bus button and got off at the next stop to take a picture. Since I have a strange sense of humor (often I'm the only one to find something funny), I couldn't stop laughing when I took this picture. The guard kept staring at me as though I was up to no good. But I just couldn't stop because it seemed like the antithesis of Parisian-ness to have neon....

I guess Paris really, really wants to host the 2012 Olympics. I'm going to do my part by adding a Paris 2012 button. However, after looking for 30 minutes, I can't find one to add to the side of my blog. Does anyone have a 2012 button they can share with me?
Allez Paris!!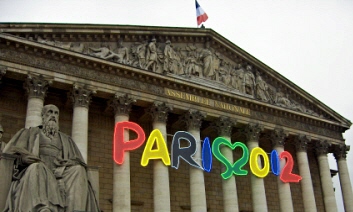 -- said Auntie M in Paris
4:08 PM

Comments:
Yeah, saw it too on the Eiffel Tower. I have a nasty picture of the bugger if you want. As if blanketting Paris with some weird 80s aesthetic is going to make anyone believe in the ability of this city to withstand the plastic onslaught of the Olympics. I with they'd just have the Olympics in one place, every year, with nobody else around...like the Moon or Antarctica.
#
posted by
NARDAC
: 9:27 PM
Post a Comment