Monday, January 03, 2005

Picard
When we got back to the apartment on Friday afternoon, a couple of us took a nap and the rest unpacked and relaxed. As soon as his nap was over, my husband headed out for a few necessary food items. If we didn't buy the items on Friday we'd be stuck for the rest of the weekend because all the grocery stores around us were closed for the holiday on Saturday and are normally closed on Sunday. So my husband bought some milk, bread, meat, cheese and apples -- at five different stores (the bakery, the cheese store, the Italian store, the grocery store, and the butcher). He just bought the apples at the grocery store so he didn't have to run to the fruit and vegetable store;) We supplemented our meals with some frozen corn, spinach and blueberries, so today I had to restock.
One of the secrets of French cuisine, if I may call it that, is that in France there is a whole chain of frozen food stores to make easy meals. This icy mecca is called PICARD. As far as I can tell, many French use Picard (there are two stores within an 8 minute walk for me).
I can't tell you how many times I have had something at a person's house and when I asked about the recipe, I was told "Picard!" Personally, I buy fruits, vegetables and chicken nuggets there, but there is so much more. For instance, you could buy frozen shrimp that really taste wonderful as shrimp cocktail. There are frozen pastry pie shells (to use with the frozen fruit) when you want to make a delicious dessert for uninvited last minute guests. There are frogs legs, leeks, escargot, steak, salmon, crepes, quiches, galette des rois, soups, and potatoes of all kinds (pommes dauphine are the best). The list doesn't stop. And best of all, if you don't have time even to shop for that frozen food, they deliver -- at least in the Paris area.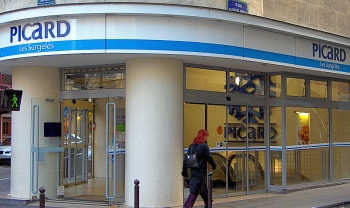 My local Picard

-- said Auntie M in Paris
3:09 PM

Comments:
BH, Once you start using the frozen foods you become addicted. There is so much choice and really good quality.
Mathieu, First of all welcome to my blog. No, there is absolutely no equivalent to Picard in the US that I am aware of. When someone told me about Picard it just sounded bizarre .. a whole store with only frozen items? How could they survive? It really was a foreign concept.
#
posted by
Auntie M in Paris
: 8:04 PM
Post a Comment