Wednesday, December 22, 2004

The Snowman
Just hung around the house today. The weather is getting warmer and the snow was very mushy today so we took the opportunity to make a snow man -- before it all melts tomorrow in the 50 degree weather. I felt like a real mom doing this with the kids. In truth, I'm not sure I've made a snow man -- at least not in the last 25 years. It was fun! Running around having a snow ball fight with my son afterward I remembered how wonderful the US can be... running, screaming, being crazy. In Paris I sometimes feel I have to act properly all the time.. and the kids too.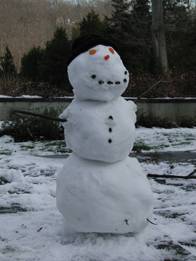 -- said Auntie M in Paris
11:15 PM

Comments:
Your snowman is adorable...and I know EXACTLY what you mean about running around and acting crazy. (I feel like I am saying that exact phrase to you all the time...) Good for you! I hope your kids have a blast!
It is COLD here today. Supposed to get back up to the 40s on Christmas day. All of the "snow" will be gone. We just had a light dusting the other night. It was neat to wake up and look outside! White?! woo!
Enjoy your day, scream and run around again today! It's good for the soul!
Care
#
posted by Anonymous : 6:51 PM
Post a Comment