Saturday, December 18, 2004

Champagne Balls
While doing some last minute holiday shopping (and I really don't want to shop anymore... all the stores are so crowded), I spent a little time at
La Maison du Chocolat
. I've mentioned before, that I love that store. We spent so much time there today (during lunch) not only did my daughter and I get a sample of chocolate (milk and dark respectively, thank you for asking) but she got a second sample before we left the store.
While shopping, I came upon these little wonders...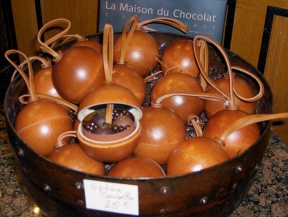 They are wooden Christmas ornaments with champagne balls, "dark ganache combined with brut champagne and cocoa beans from the Equator and Columbia" and "milk ganache combined with rose champagne and cocoa beans from Trinidad and Equator." The champagne comes from the
Taillevent caves
. The champagne balls are surrounded by little dark chocolate balls that you can eat or use to make hot chocolate. Wouldn't these ornaments look better hanging on my Christmas tree??
-- said Auntie M in Paris
5:38 PM

Comments:
How VERY cool! I love those ornaments! I miss finding little treasures like that. And chocolate. Ugh. My other weakness. I can handle small doses of dark, but I love milk chocolate the best. If you ever make it to Cologne, there is a chocolate factory/museum right down from the Cathedral. You can watch them make the chocolate and put it in the molds etc. Really neat!! I love watching anything as it is being made. Is that strange??
Care
#
posted by
Carrie
: 12:33 AM
Post a Comment