Tuesday, December 14, 2004

Taller Than The Eiffel Tower
The world's highest road bridge, located in Millau, France, will be open to traffic on Thursday.
Every summer for the past couple of years my family has taken a road trip around France (opposite direction of the Tour de France) to visit my sister and friends. Even though we get to travel to many countries while here in Europe, I think our best trips have been driving around France. It's a beautiful country with so much history in every small town.
This past summer we headed toward Avignon, Orange, Chateauneuf du Pape, and Le Pont du Gard finally reaching the Montpellier area where my sister lives.
Here is a family photo at Le Pont du Gard. I think that day will be one of our best memories of France. There is a life guard on duty in the summer and you can go swimming or the kids can play on the beach.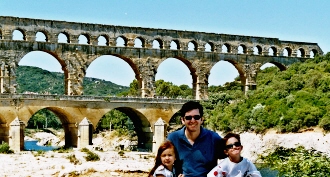 After staying a few days with my sister, we drove through the Massif Central.
On the way home, we passed by the Millau bridge -- which was still being constructed. We were far away when we first saw the bridge. It's absolutely massive (in the massif central, how apropos). Of course, big isn't good enough... it's also a work of art. The architect, Mr Foster said the bridge was designed to have the "delicacy of a butterfly". For 4,60 euro you can take a ride across the bridge. Bring your camera.



-- said Auntie M in Paris
6:45 PM

Comments:
they did a piece about it on the news this morning. my husband and i decided that the next time we go to france we'll have to go. it looks a lot like the new zakim bridge in boston. just more grand.
http://www.boston.com/news/traffic/bigdig/special/galleries/bridge/intro.htm
maryse http://morici.typepad.com/bag_n_trash
#
posted by Anonymous : 7:33 PM
The Millau bridge has been all over the news in France. I saw it on TV last night and then all over the papers today. I was going to blog about it, but you beat me to it.
Of course, I was totally mesmerized by it and I would love to drive across it. 4,60 euros seems totally worth it to me.
Jason
http://jasonstone.typepad.com
#
posted by Anonymous : 11:09 PM
dacnar told me to watch the news tonight, just so we could see crazy chirac's idiotic smiley face right next to the biggest bridge in the world! lucky for us it's on thursday...or was he there today? Gosh, so hard to keep track of his social schedule.
Yah, totally agree, driving around France is a great trip. Eating in little places, finding funny old buildings and stopping at farms. Swimming in rivers, going wine tasting.
But, don't knock the Tour de France. It's really fantastic. You should try it one day. Pick a mountain stage, get there early, and watch the excitement. It's truly a sporting experience unlike any other. But of course, I'm a fan.
#
posted by
NARDAC
: 4:32 AM
Post a Comment