Thursday, December 09, 2004

BHV
Had some free time this morning. I decided to head over to BHV (Le Bazar de l'Hotel de Ville) for some Christmas shopping. My daughter mentioned last night that usually there are gifts under the Christmas tree and I hadn't bought the kids anything. For the most part, our shopping will be done in the US. The exchange rate, as you all know, is wonderful for those of us earning money in euro and shopping in the US. Even my French teacher, who took a business trip with her husband to Texas last week, was telling tale after tale of what she bought and for how cheap in the US.
Anyway, BHV has EVERYTHING. I really felt dizzy just walking around. You name it they got it... Paris street signs, vacuum cleaners, art supplies, clothes, luggage, jewelry, furniture... it's all there. I headed straight to the toys and found a couple of uniquely French things for the kids, e.g., a stuffed Babar (my daughter loves the show).
After shopping I walked outside to the Hotel de Ville. They have a skating rink open until March 13. I took a picture of the rink.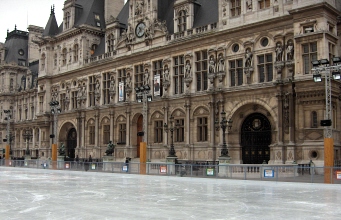 -- said Auntie M in Paris
4:02 PM

Comments:
*sigh*--- I am loving your posts . .. you have no idea-- it brings me a bit of Paris and it is wonderful!!!
~ bluepoppy
http://bluepoppy.omworks.com
#
posted by Anonymous : 4:47 PM
Post a Comment