Saturday, December 04, 2004

My Holiday Cookies
I made some cookies last night and finished them up today. The are a family favorite (to my sisters: sorry I can't share them with you). They require a two step preparation, but are well worth the time. They are called "rainbow," "three-layer," and/or "Italian wedding" cookies and they are delicious. The main ingredient is almond paste. If you like marzipan and chocolate, you'll love these cookies. I have yet to learn how to take good close up pictures, but here is my attempt to show you my yummy cookies. I used 64% chocolate by 1848, the things we must do when chocolate chips are not available. My son informed me today that he no longer will eat milk chocolate.. only dark chocolate. He takes after his Grammy.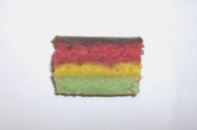 -- said Auntie M in Paris
6:32 PM

Comments:
Your son is absolutely right, though I won't eat anything less than 76%. (yes I will... I just prefer darker) and can I please have some of your cookies, PLEEEEEEEEEEEEASE?
#
posted by
Kate
: 8:58 PM
Kate,
They are super rich and the recipe makes quite a few. If I'm in your neck of the woods this week, I'll bring a few to you.
#
posted by
Auntie M in Paris
: 10:11 PM
Post a Comment