Tuesday, November 30, 2004

Tiramisu
Today a friend from my French class invited me over for a tiramisu preparation lesson. My father is Italian and his mother lived in our house when I was growing up. I feel like I'm a pretty decent cook of Italian food. However, one thing I've never made is tiramisu. It was so easy and delicious! She also showed me how to make a salad of Magret de Canard/duck and green beans and pasta with broccoli. It's always helpful for me to see how other people cook. The duck salad is nothing I would have ever dreamed of but it was very easy to make and would really impress out of town guests. Here is a picture of the Tiramisu -- the picture doesn't do it justice.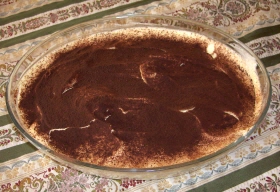 It was the first time to this friend's apartment. The apartment was huge... I think I counted 6 bedrooms and three toilets. That is big by most standards. It was a very typical Parisian apartment. In the good old days, everyone with an apartment this size would have a maid. The maid's bedroom and the kitchen would be off to one end of the apartment while the family living quarters would be at the other end. This apartment was more impressive than most.... the hall from the dining room to the kitchen was 35 meters long -- that is 115 feet. You never want to forget the salt and pepper in the kitchen, that's for sure.
My son is standing over my shoulder reading this blog entry. Even though he's seven it still flips me out that he can read. Last year he learned to read in French. This year he is reading English. He's smiling as he reads this. It's a great thing.
-- said Auntie M in Paris
8:48 PM