Monday, August 01, 2005

McDonald's
According to the website, there are something like 73
McDonald's
restaurants in Paris. Quelle honte!
I'm sad to report that my children have had lots of experience with McDo (pronounced Mack Dough) in France. It really hit home when we entered the city of Saumur on our Brittany road trip to have my son say "Oh yeah, I've been to this town before.... I've been to that McDonald's!"
During the two week trip we took the kids to McDo's a number of times while we were driving from one point to another. The Happy Meal toy this summer is a little radio that comes in 6 colors and each plays a different tune. My children collected four of the radios over the two weeks and my son in particular would walk around with each little radio hanging from a belt buckle with the music playing. All I could think of was.... he is a walking announcement that he has a terrible mother who takes him to McDo all the time. He was obviously oblivious to the matter, asking me "what does embarrass mean, Mommy?"
I think this is the most interesting McDonald's facade I've ever seen. It's located around Gare Saint Lazare in the 8th arrondissement. It looks like it belongs in Germany.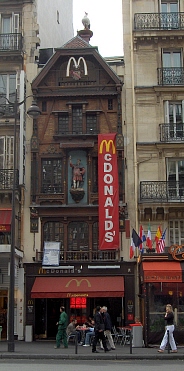 But here's the dirty little secret -- the French eat there too.
-- said Auntie M in Paris
9:00 PM

Comments:
I remember my son liking to collect those toys. Watch out, they pile up! The thing w. McD toys are they always have a collection in which one may want all! of them. I agree - that is an interesting McD facade - I see they couldn't quite figure how to handle the signage artfully.
How about Quick - are there any very close to this one? Does the family like it? Terry in SF
#
posted by Anonymous : 4:48 PM
Post a Comment