Sunday, July 24, 2005

Pointe du Raz
Our hotel, the
Hotel de la Baie de Trepasses
, was located on one of the most Western points of continental France. My husband, who had made the reservation based on the picture he saw of the hotel on a website, started getting worried that his expectations wouldn't get met as we drover further and further. However, as we neared our final destination and came around a corner and finally laid eyes on our hotel we were not disappointed!
The Hotel is right on the beach. The beach itself, was flat and sandy with these magnificent cliffs on either side:
pointe du raz
and
pointe du van
. The hotel has the most amazing location!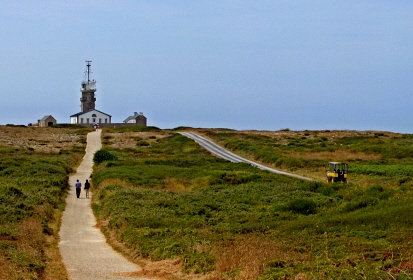 The walk toward the cliffs of pointe du raz. You could also take a free shuttle or pay for the horse and carriage ride (in yellow on the other road).
We spent one day checking out the Pointes. Here is the Pointe du Raz. We sat, on a safe spot, for quite a while looking out at the cliffs and Phare de la Veille, the light house on the last small island. We ended up buying a poster of the Phare de la Veille to bring home with us. The children we happy because they could "buy" a medallion here.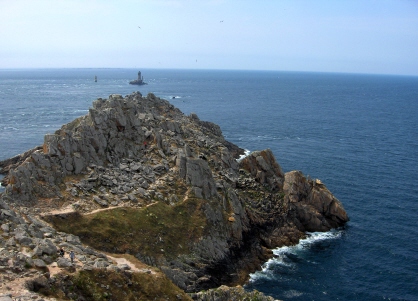 I could have stayed there for hours. The seagulls were floating over our heads. Notice the crazy people walking on the cliff. See the red dot?
Because everyone enjoyed our walk to the Pointe du Raz so much, we decided to drive out to the Pointe du Van afterward. This cliff is not so much a "Pointe," at least anymore. It is a rounded area and you follow a path. The views are beautiful and it is well with your time for a visit. Before we took off for our walk, we read the sign below. I thought it was amusing.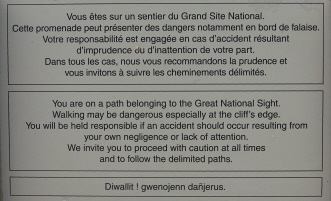 -- said Auntie M in Paris
8:37 PM

Comments:
It is delightful to read your comments about this farewell tour in France. Clearly, you savored the moments and are generous enough to share it with us in these hectic times before you return to the U.S. Once again, thanks a million!
#
posted by
Marily, the Ingredient Sleuth
: 9:38 PM
Yes, a second thanks from another fan for sharing! Terry in SF (I said a big WOW at the accomodations.)
#
posted by Anonymous : 5:08 PM
Post a Comment