Tuesday, July 19, 2005

Home Again
We arrived back home late this afternoon. We'd been gone for two weeks and there is nothing like walking back into your own home, opening your own refrigerator, eating exactly what you want (poulet roti).... and boy am I looking forward to sleeping in my own bed with my husband!
I will write about the trip in the next few days, but I'll start with the beginning of my trip.... to visit my sister in her home near
Montpellier
. As I mentioned, we spent our days laying at her pool (she knit, of course). Here is a picture of the back of her home, taken from the pool....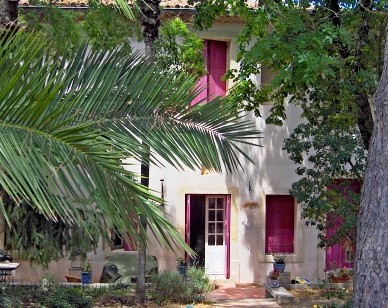 I thought it was wonderful that my sister can put out a "bread bag" on her door knob before 9am and the local bakery will put the bread or baguette of the day in the bag. This day we got some version of a sesame baguette. We nearly ate the whole thing for breakfast... it was just that good and fresh. You just don't get that kind of service in Paris!
-- said Auntie M in Paris
11:22 PM

Comments:
Her home looks beautiful - I love the pink (or magenta?) windows. I really wish there was fresh bread delivery service here though!
#
posted by
kristin
: 4:59 AM
Post a Comment