Thursday, July 14, 2005

George Sand - The Romantic Museum
A taste of Paris on Bastille Day. I wrote this post last week......
Last year it was the 200th anniversary of the birth of
George Sand
and there were a number of activities going on to celebrate in France. Because of all the discussion, I decided to read a biography of this French romantic writer.
Sand
was an amazing woman and early feminist. Born in Paris with the name Amandine-Aurore-Lucile Dupin and raised by her grandmother in
Nohant
. She married and bore two children -- a boy Maurice, and a girl Solange. She inherited Nohant in 1821.
Sand had an unhappy marriage and left Nohant and her family to return to Paris in 1831. She started writing for
Le Figaro
and became friends with many of the artists and writers of her day. She took on a series of high profile lovers. One of the first lovers is
Jules Sandeau
, with whom she writes a book,
Rose and Blanche
under the name Jules Sand (she supposedly took her pen name from shortening Sandeau).
Unfortunately for Sand, I believe she is best known for her lovers, most specifically,
Chopin
. However, she was successful in her own right. She wrote many popular novels, including
Indiana
,
Lelia
,
Mauprat
and
Le Compagnon du Tour de France
. She also wrote pieces for the theater, like
Histoire de ma vie
.
ANYWAY... what I wanted to write is that I finally got over to the
Musee de la Vie Romantique
/ Museum of the Romantic Life. This museum is located at the bottom of Montmartre (about 4 blocks from the Moulin Rouge) in the Scheffer-Renan mansion.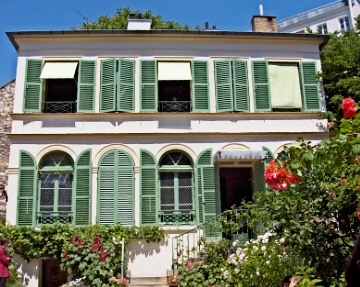 Dutch born painter Ary Scheffer lived here the first half of the 19th century. He received many artists and intellectual elites of his time in this mansion, including, George Sand, Delacroix, Chopin, Liszt, Rossini and Dickens. The mansion was left to the city of Paris by heirs of Scheffer and became a museum in 1987, housing memorabilia of George Sand.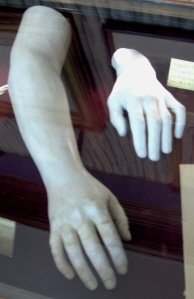 Sand's arm and Chopin's hand. Isn't it romantic?
There is a lovely tea salon located in the garden area outside of the museum. I had to run back to pick up the children at school. If I had more time, I would definitely have joined the lucky people enjoying the sun and snacks.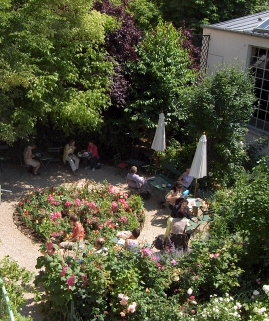 I ask the support of no one, neither to kill someone for me, gather a bouquet, correct a proof, nor to go with me to the theater. I go there on my own, as a man, by choice; and when I want flowers, I go on foot, by myself, to the Alps.
George Sand
-- said Auntie M in Paris
6:37 PM

Comments:
Auntie M.,
With much regret, I do not agree with you when you state: "Unfortunately for Sand, I believe she is best known for her lovers, most specifically, Chopin. However, she was successful in her own right. She wrote many popular novels..."
Aurore Dupin, baronne Dudevant (1804-1876), a pioneer feminist who chose George Sand as a "nom de plume", and who loved to dress in men's clothing, was renowned in her own time for her great talent as a writer & her powerful analysis of French society. The fact that, as a young woman, she had lovers is not what made her famous. In the passionate Romantic era in which she lived, everyone with a name had one or several lovers. And as far as passionate love was concerned, the poet Alfred de Musset was her lover in the real sense of the word while Chopin, who was very ill, quickly became more like a child to her, or a brother she learned to take care of.
As proof that her talent as a writer was recognized during her lifetime, here is what two famous French literary men said at her death in July 1876.
« From now on, something will be amiss in our concert, a chord is broken in the lyre of the century." (Ernest Renan)
"I cry over a corpse and salute an immortal!" (Victor Hugo)
Frania W.
#
posted by
Frania W.
: 7:23 AM
Post a Comment