Saturday, July 02, 2005

Sun Bathers..
While in Bordeaux we went to the beach one day. Usually, when down in that part of France, we drive to
Arcachon
, a beautiful beach resort and well worth a visit. However, this time we drove to a lake nearby.
Every time we set foot on a beach in France I am always surprised to find topless women, often with their families, sunning on the beach. At the lake, I really think every woman there was topless (except my friend and me) and it didn't matter about body shape or size.
I've blurred this picture a bit, but here are two topless women friends just chatting in the water. I would definitely have felt self-conscious and at least walked in a bit further!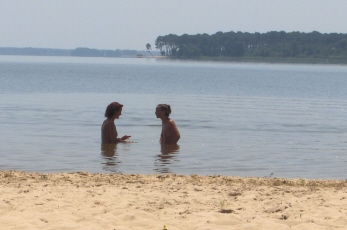 -- said Auntie M in Paris
8:30 PM

Comments:
G'day Auntie M,
It is not the done thing to walk around topless on Australian beaches, they have set aside certain sections of some beaches if that is what you want to do, but on the public beaches it is illegal.
I do admire the Europeans and their openess.
#
posted by
vegemiterules
: 2:09 AM
Post a Comment