Saturday, June 25, 2005

Bistro de Breteuil
In one of my last French classes, the teacher went around the room asking everyone to tell the group about their favorite restaurants in Paris. Since the group is international, the restaurant recommendations were not necessarily the ones you'd find in
Zagat's
. For instance, I tried a local Korean restaurant because it was recommended. I even ordered what the classmate suggested. It was very good and I was glad to try something new.
One French restaurant that someone recommended was the
Bistro de Breteuil
in the 7th arrondissement. I had been to this place about two years before, but forgot about it. So when my friends decided they wanted a group of us to go out to dinner, I recommended this bistro.
This place is perfect for a group of people because everyone must order the 32 euro dinner menu. It's the only choice that I could see. For your money, you get a kir to start, an appetizer, a main course, a half a bottle of wine, a dessert and a coffee. Believe me, this is a great deal in Paris.
Even better is the fact that the menu options are amazing. I had a hard time choosing from all the good options...for dinner you can have... veal, lamb, steak, and three types of fish. I ordered shrimp for an appetizer, a white fish for dinner and profiteroles for dessert. Yummy. Everyone enjoyed their meal.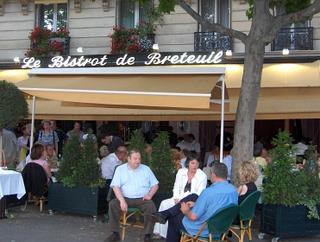 Another plus... even though it was really hot out again last night, the terrace was open and there was a breeze while we ate. It was wonderful until the smoker sat down near me and that breeze turned into smoke.
-- said Auntie M in Paris
10:38 PM

Comments:
They smoke everywhere in Italy... which I was totally prepared for. Seriously, I never saw people smoke in such weird circumstances... like the tour guide in Cinque Terre who must have gone through an entire pack while we were hiking the mountains!
#
posted by
Joe
: 8:06 AM
Where did you take your French lessons? I would like to start taking a class in September when my daughter starts école maternelle.
#
posted by
Oz
: 10:50 AM
ahem.. I have to go there one day... and sorry for the missed meeting, I was horribly busy ...
#
posted by
negrito
: 9:47 PM
Post a Comment