Sunday, June 19, 2005

Fete des Tuileries
Yesterday started the
Fete des Tuileries
, the annual Fair held in the Tuileries Garden. I decided to take the kids there for a few hours in the afternoon. We had attended this fair two or three years ago and I don't think anything changed. In fact, the Fair poster looks like it was originally made in the 1950s. It's probably been going on for decades, at least.
The Fair is located on the terrace of the Tuileries. If you get off at the Tuileries metro, you take just a few steps to enter the fair. Entry is free, but the rides are expensive... usually around three of four euro per ride. The piece de resistance at the Fair is the Ferris Wheel. I think we took 4 tours around.... the kids loved the ride and the wonderful views of Paris.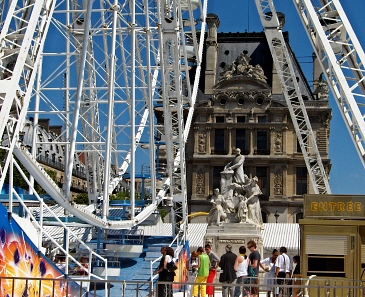 The Ferris Wheel entrance with the Louvre in the background. Paris is amazing that it can mix old (Louvre chateau) and new (pyramids of Louvre), serious (statue of men) and fun (Ferris wheel) together. It's such a together city. It's always en vogue.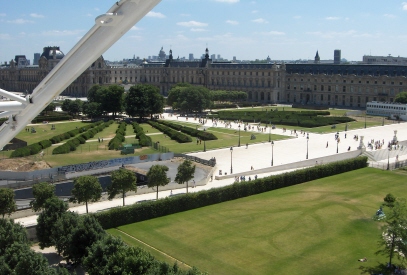 Here is one view from the Ferris Wheel. My son noticed that there was a tree "painted" on the ground (bottom right) and wondered how that was done. Anyone have a clue?
There are many other traditional fair rides... bumper cars, a big slide, lots of games of chance and one really crazy ride called the Ejection... a bungee swing that seems to fly into the air like a ball attached to a rubber band. My son was very interested in the ride, but even he wasn't foolish enough to ask to try it. There were also carnival games like shoot the balloon and win a prize. Finally, there were a few places to get some food, ice cream or the delicious
granita
's (basically a slush). Since it was so unbelievably hot yesterday, we each had a granita and they tasted so good! Maybe I just miss ice drinks.
If you are planning to be in Paris during the summer with children this is a wonderful place to go.... you could spend time at the Louvre and then promise to take the kids on the Ferris Wheel (6 euro adults, 4 euro kids). The Fair is open until August 21.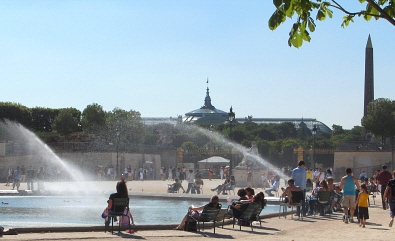 Entrance to Tuileries Garden from Place de la Concorde.
People were either in the shade or near water yesterday because of the heat.
Happy Father's Day to all you father's, grandfather's, godfather's, and step father's out there.
-- said Auntie M in Paris
9:17 PM

Comments:
Oz, It is a great place to take visitors who have children... maybe even without kids because that Ferris Wheel is fun.
Kelley, I have an HP photosmart (r707) camera. I got it late last year and it has served me well. The Paris sky is amazing.
Janet, Thank you!
Sammy, I hope you called your father.
Maggie Ann, I don't think it's a shadow. It seemed so clear. I should have walked over there to find out more about my mysterious tree on grass.
A, You lucky girl. Sounds like your guy is very romantic.
Melody, Thanks. I really enjoy taking pictures. I'm spoiled with the digital.
#
posted by
Auntie M in Paris
: 10:54 PM
Post a Comment