Sunday, June 12, 2005

Jules Verne
One really, really nice way to celebrate a birthday would be to have lunch at
Jules Verne
. On Friday, after making a reservation two months ago in April, my girlfriend and I took the special elevator entrance up to one of the best restaurants in Paris.
The yellow awning announces
Jules Verne
to the lucky entrants with the correct name and reservation.
We took the private elevator up to the second floor of the Eiffel Tower to the restaurant. Every moment that passes by is screaming privileged to me. You feel special just being there. You walk out of the elevator and there are so many service staff waiting to seat you, help with your wine choice, cheese choice or whatever else you may want. The setting itself is elegant. The decor, basically geometric in design, fits perfectly with the Tower as the backdrop.
We were the first to arrive and be seated with our 12:15pm reservation. My French sister had called last week to see if we could have a window seat and was told "everyone wants a window seat Madame!" But it must have worked. I had one of the best seats in the restaurant.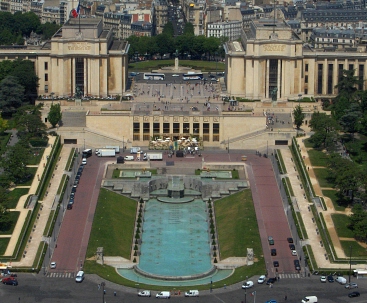 View from my chair. Amazing, huh?
I am kicking myself that I forgot to take a picture of the menu. It would have made describing this wonderful meal so much easier, so bear with me. We started with a kir (cassis and dry white wine). Although I've grown to love champagne while living in France, I really enjoy a kir (as opposed to a kir royal with champagne) for an aperitif. Homemade bread sticks with nuts were brought to the table to enjoy with our drinks. Then we were brought our amuse bouche, in a ramekin, that was comprised of duck hash with little pieces of celery and carrots topped with a celery mousse. It was light and flavorful.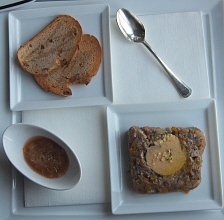 We both ordered the menu and started with the foie gras surrounded by the same duck hash. I am sure that I never ever thought to order foie gras in the US, but like champagne, I have really grown to appreciate a good piece of foie gras. It was creamy and rich and tasted heavenly. To go along with the foie gras was an onion concoction that was tangy and sweet and a wonderful complement.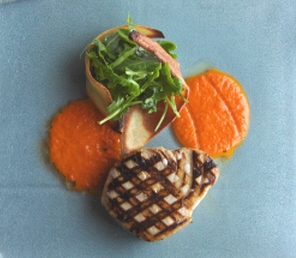 For the main course, I ordered the grilled tuna with a red pepper sauce. Amazing. Really tender (au point) and the grilled flavor with the tuna worked so well together. My friend had a bite and it was the first thing she noticed too. Along with the tuna came a zucchini fondue, although the waiter described it as a gratin when he gave it to me. It was probably somewhere in between. There was a light crust on the top and it was creamy in the middle. The "fondue" was good, but not spectacular. My friend ordered the chicken in a cream sauce. It was tasty, but looked and tasted like something we could make at home. We choose a
bourgogne aligote
, a white wine, to drink with the dinner.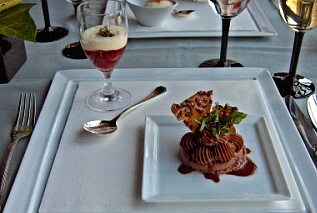 Finally, the dessert... my friend ordered the tapioca pudding so I felt obliged to order the chocolate macaroon with a side of cherries (the waiter said it was his favorite). Lots of different chocolate consistencies all mingled together. The cherries, topped with a thick cream were a good balance to all the chocolate. A delicious combination.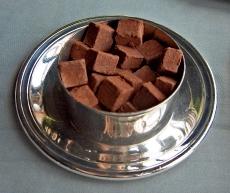 Needless to say, the truffles, offered to us, were divine.
The "menu" for lunch is 55 euro. The dinner "menu" is 125 euro. Prices include service, but no drinks. I'd heard that the Jules Verne wasn't as good as it used to be. But I thought the meal was terrific and the ambiance incomparable. If you ever have the opportunity to have a meal at the Jules Verne, do it! It was absolutely one of the best experiences I've had in France.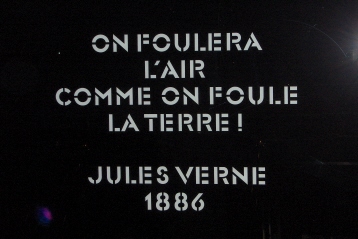 -- said Auntie M in Paris
8:25 AM

Comments:
hey fellow gemini, happy birthday.. i just stumbled upon this site and quite enjoyed it. I too am an American expatriot, and wish there were more outlets like this. The transition is an amazing one that should be documented for all to see...I would love to read more about the intricacies of assimilation, as I have been here only a few months and would love the advice!
#
posted by : 8:43 PM
Post a Comment