Friday, June 03, 2005

Le Cordon Bleu
Two friends of mine decided in September that we would try all sorts of cooking classes over the school year. Because of scheduling difficulties, it only worked out a couple of times. Yesterday we attended an American Women's Group-sponsored cooking demonstration at the famous Le Cordon Bleu.

We arrived at 1pm for a 2.5 hour demonstration course.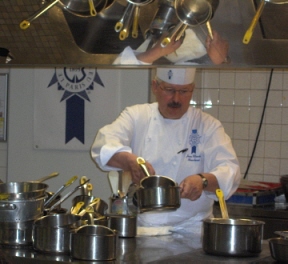 A Cordon Bleu chef arrived to prepare:

Salade de homard au melon, vinaigrette a la framboise/ Lobster salad with melon, raspberry vinaigrette. A Montlouis demi sec 2003 was served with the salad.

Review: Although I don't like the idea of buying a lobster and boiling it...this amazing salad would almost be worth it... chopped up lobster, salad, strawberries and melon in the raspberry vinaigrette was wonderful. As the chef said, fruit goes very well with crustacean. The salad tasted light and refreshing with large delicious lobster pieces as an added bonus.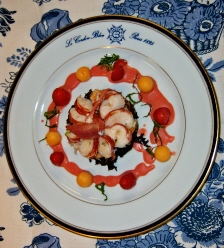 Filets de Saint-Pierre grenobloise puree de pommes de terre a l'huile d'olive/ Filets of John Dory Grenobloise, puree with olive oil. A Marsannay rose 2003 was served with the fish. First of all... how does Saint Pierre get translated into John Dory? Can someone explain this?? This meal was also amazing to the senses. The mild white fish was topped with a lemon, caper butter sauce with little crunchy croutons. I really enjoy cooking with lemon and this was a recipe I will definitely try at home.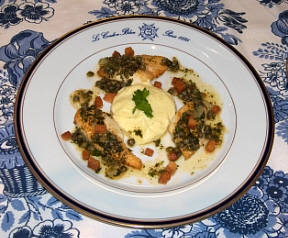 A piece of baguette with a large slice of St. Nectaire was given to us for our cheese course.

Finally... the fraises au vin et au cassis, riz au lait de coco/ Strawberries with wine and blackcurrants, coconut milk rice. A Bourgogne Cotes St. Jacques 2003 was served with the rice. I've tried to make rice pudding a couple of times, but it just hasn't worked out for me. My husband eats everything I make but turned his nose up to my last rice pudding. The chef recommended blanching the rice and cautioned against adding the sugar until the end of the heating process. I will certainly heed his advice next time! I really liked this dessert, but honestly, with alcohol in the rice pudding, strawberries in wine and a glass of bougogne, my senses might have been a bit off by this point.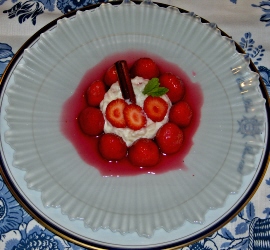 For the demonstration class, Le Cordon Bleu gives you the ingredient list for each meal and you are supposed to follow along with the chef and write down the directions and his tips. As usual, the chef makes it look so easy. What was most helpful to me were the chef's pointers on preparation and presentation -- that will be very helpful to me on future cooking projects.

For instance, I never realized exactly what meuniere meant, even though I order sole meuniere often. I knew it was a butter sauce... but now I know it's a specific color (light brown) and flavor (nutty) the butter reaches after cooking a certain amount of time.

The chefs at Le Cordon Bleu speak French, but there is usually an English translator, as there was yesterday. I spent 40 euro on this class and thought it was well worth the price -- although Le Cordon Bleu added some special touches to their normal demonstration for the AWG.

The Cordon Bleu offers demonstration classes throughout the year. At the end of the demonstration you are served a small portion of the prepared food on a plate to taste what was made. The tasting was a meal in itself.

-- said Auntie M in Paris
9:44 PM

Comments:
Hi Auntie !
First of all... how does Saint Pierre get translated into John Dory? Can someone explain this??
Sure. (smile)
It's not a translation, strictly speaking. As so often happens, the words used in English for something are simply a corruption of the original French term. This time around, the fish was called, in French,
jaune doree
(note that the first e in the second word should have an acute acccent, but our blogs seem to have display problems with accents when in "comment" mode …). That French term can be rendered in English as "gilded yellow", or, in a more modern idiom, "golden yellow".
The color of the fish (
Zeus faber
) is yellow and olive, with golden, silvery, and blue reflections. It has a round dark spot on each side. It is also called dory, doree, and St. Peter's fish.
By the way, another foodie dictionary here, as a definition of "John Dory", yields: "either of two North Atlantic fish (
Zeus faber
or
Zeus ocellata
) having a laterally compressed body and long spines on the dorsal fin."
You seem to be interested in French food and cooking, which is quite natural for an American expat in Paris (smile). An expat reporter named Waverly Root worked for years at the Herald Tribune when it was a real newspaper, and penned regular weekly food columns. A lot of them were collected, heavily rewritten and recast as a wonderful book which came out in the late 1950s: "The Food of France". It's an absolute must read: 450 pages or so. Root also wrote "The Food of Italy", in the same vein. The books are not difficult to find.
Waverly Root wrote his autobiography as "The Paris Edition: The Autobiography of Waverly Root, 1927-1934". An excellent read if you love Paris, as it used to be.
Thanks for this great report on the
Cordon Bleu
demo.
L'Amerloque
#
posted by
L'Amerloque
: 11:22 AM
Post a Comment