Tuesday, May 31, 2005

Roland Garros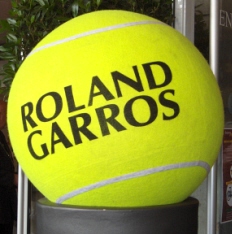 Yesterday my friend and I decided to visit Roland Garros to check out the French Open. We headed there in the early afternoon to see if we could buy some same day tickets. We could... annex tickets for 11 euro.

The annex tickets means that you can see the smaller, lesser known players in their matches (around six being played yesterday). We did not see the big match yesterday, between Marat Safin and Tommy Robredo. Apparently, it was pretty exciting with Safin smashing his racket and a court-side chair when he lost. The matches we watched were pretty tame... just a lot of grunting that so many players do when they hit the ball.

One match we watched was...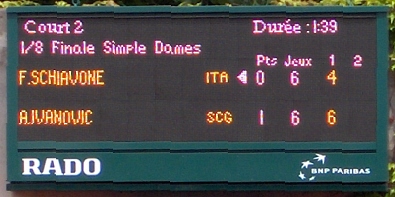 ....apparently, SCG represents Serbia and Montenegro. Personally, I hate getting called a simple dame :)

I'd been to Roland Garros in 2002 when the Americans played the French for the Davis Cup. That was a lot of fun and we saw some of the best tennis players, including one of France's favorites, Sebastien Grosjean.

Yesterday we were content to walk from annex to annex, watching a single boy's match here and a women's double match there. We also checked out all the stalls and won some stuff (and bought some stuff). Even though it threatened to rain all afternoon, it held out. It was a fun day and well worth the 11 euro.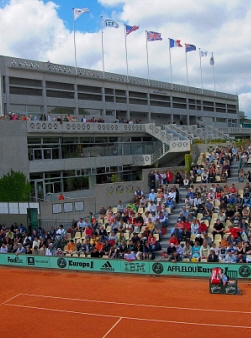 One of the annex courts at Roland Garros.

-- said Auntie M in Paris
9:36 PM

Comments:
Anonymous wrote to ask the identity of Roland Garros. I thought, "I'd like to know that too", so I Googled for an answer and found the following at
http://www.spartacus.schoolnet.co.uk/
FWWgarros.htm
"Roland Garros was born in France in 1882. An experienced pilot, Garros was the first Frenchman to cross the Mediterranean by air. On the outbreak of the First World War, Garros was sent to serve on the Western Front.
"Garros realised that he would have more success in dogfights if he could find a way of firing a machine-gun through the propeller. Working with Raymond Saulnier, a French aircraft manufacturer, Garros, added deflector plates to the blades of the propeller of his Morane-Saulnier. These small wedges of toughened steel diverted the passage of those bullets which struck the blades.
"Now able to use a forward-firing machine-gun, went out searching for his first victim. On 1st April 1915, Garros approached an German Albatros B II reconnaissance aircraft. The German pilot was surprised when Garros approached him head-on. The accepted air fighting strategy at the time was to take 'pot-shots' with a revolver or rifle. Instead Garros shot down the Albatros through his whirling propeller.
"In the next two weeks Garros shot down four more enemy aircraft. However, the success was short-lived because on 18th April, a rifleman defending Courtrai railway station, managed to fracture the petrol pipe of the aircraft that Garros was flying. Garros was forced to land behind the German front-line and before he could set-fire to his machine it was captured by the Germans. After finding out about Garros' invention, German pilots began using these deflector plates on the blades of their propellers.
"In 1918 Garros escaped from Germany and returned to active service on the Western Front. Roland Garros was shot down and killed at Vouziers on 5th October 1918."
#
posted by : 6:11 AM
Post a Comment