Saturday, May 28, 2005

Le Buci
On date night, a few friends got together to head out to a vernissage or art show opening night in the 6th arrondissement. We had a French dinner at a decent restaurant, with many other English-speakers. I kept wondering why are these people, probably only in town for a few days, eating at this adequate place when there are so many good places around? I mean if I was coming to Paris, I'd do a bit of restaurant research. Then I thought, maybe they just couldn't find a place to eat without a reservation.

Here we were in the 6th... a fun, lively part of Paris on a warm evening and the area was crowded with people. There was a small band walking up and down the streets. The cafes used every available inch of their outdoor space and there still wasn't a free seat to be found. The line for the ice cream stand grew longer and longer as the evening continued.

I'm a big fan of ice cream, and I really have never understood this Berthillon thing. Maybe that is the best ice cream in France, but I always thought the American ice cream was better. On Thursday night I was reminded of what country really is the best at ice cream... Italy. We stopped at Amorino for some amazing gelato.




It seemed like people just had to be outside to enjoy the warm weather. Live music. An art show. People sitting outside eating from those round Paris cafe tables. It was truly a Paris moment for me. One of the many reasons I love this city.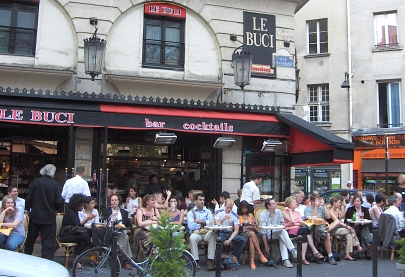 Le Buci

-- said Auntie M in Paris
11:17 PM

Comments:
Your posts always make me yearn to return to Paris. I shall be lookign at my vacation calander soon and of course I will blame you if plane tickets are purchased.
Italian ice cream is glorious. Simply glorious.
#
posted by
Michele
: 5:42 AM
Post a Comment