Sunday, May 22, 2005

Nissim de Camondo
On Friday I had a walking tour of the
Nissim de Camondo
museum. Before I saw the tour list I'm not sure that I'd heard of this museum... but then again...there are so many in Paris.
Our tour started outside of the museum near a plaque announcing a brief history of the de Camondo family. The Jewish family originally came from Spain, where they fled from the Inquisition. They moved to Italy and then Turkey (Constantinople) where they became successful bankers. There were two brothers, Nissim and Abraham de Camondo, and they moved to Paris in the 1870s. They built houses, rather mansions, next to each other. The houses eventually fell into the hands of their sons. Isaac, Abraham's son, collected art from the Far East. He died childless and most of his collection was donated to the Louvre.
Nissim's son, Moise de Camondo, had an impressive and vast collection of French decorative arts of the second half of the eighteenth century. Moise married and had two children. Moise divorced his wife and raised the two children. The boy, Nissim, named after his grandfather, goes to fight as a pilot in the WWI. Beatrice, marries and has two children, and her family lives with Moise. In 1917, Nissim dies while fighting in the war. Moise dies in 1935, stating in his will that his "town-house as it stands at the moment of my death" is donated to the
Musee des Arts Decoratifs
, in memory of his father and son -- both named Nissim de Camondo.
Beatrice received other properties and wealth from Moise. She lived in the high society and thought her family was safe during WWII because Abraham and Moise had been generous to the French government and because her brother lost his life fighting for France. Unfortunately,
Vichy France
came to
Beatrice's
home and sent her whole family to Auschwitz where they all perished. That was the last of the de Camondo family. A very sad tale, indeed.
Of course, it's wonderful that there is a beautiful museum left to memorialize this family. The museum-mansion is very large and filled with beautiful pieces of French art.
There are three floors to this large museum: the lower ground floor (the kitchens), upper ground floor (reception room -- all the formal rooms), and the first floor (the private apartments). The servants' dining room on the lower group floor indicates that the house had 12 people on staff, from gardeners to butlers.
The upper ground floor, where guests would visit, is filled with treasures. So many of the pieces have history.. silverware commissioned by Catherine the Great of Russia.... vases that once adorned the private chambers of Marie Antoinette at Versailles... If you wanted to take a class on French decorative arts, this is the place to come because there are so many wonderful examples. If you like the
antiques road show
, you'll love this museum.
Here is a picture of the Great Drawing Room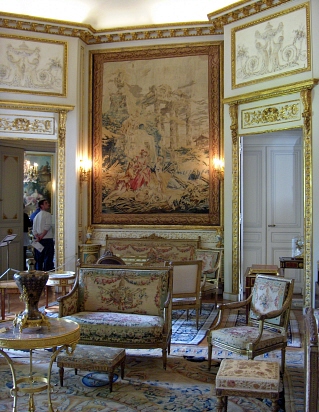 The carpet, from the Savonnerie manufactory, supplied in 1678 for the Grande Galerie in the Louvre.
The "Meiping" bottle, lacquered bronze. Japanese, Edo period, early 18th century. Chased and gilt bronze mount by Francois Remond, 1783, It once belonged to Madame de Pompadour.
The family rooms are upstairs. The furniture and decorations are not as fancy there. The blue drawing room, where Moise de Camondo worked, included at least one piece of furniture I'd like to mention.... the
lit de repos
. There is really nothing special about this couch except the way our French guide described it! Something like..... women rested on these
lit de repos
because there were tired from wearing such tight clothes (popular at the time). When laying on this couch "lovers would come to have them." Imagine it with a heavy French accent. Really, it was quite funny, I promise.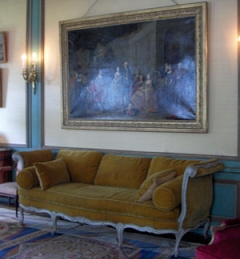 Known as the turquoise because of its scrolled ends giving it a turkish flavor, circa 1755, stamped Jean Avisse.
The 6 euro cost of admission is well worth the price for anyone interested in French arts of the 18th century. Our guide was able to point out some of the most interesting pieces, but there are so many tapestries, paintings, chairs, vases, desks and other works of art to see that it probably makes sense to rent the audio guide to get the most out of your visit.
-- said Auntie M in Paris
8:04 PM

Comments:
Star, Glad to have your visit. Thanks!
Becca, You're always so nice. The guide had a lot more information, but I like writing about the stuff that interested me the most.
Mrsmogul, What an interesting dream it must have been!
Joe, I hope you have a great time in Rome. I'll check your blog when you get back to read all your stories about the trip.
#
posted by
Auntie M in Paris
: 4:03 PM
Post a Comment