Friday, May 20, 2005

Ministry of Finance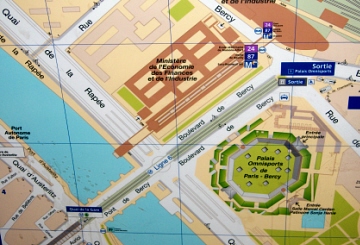 We had a walking tour of Bercy yesterday. Bercy is on the other side of town and as a result, I haven't seen too much of the place. In fact, the last time I was in the area I went to a Bruce Springsteen concert at the Palais Omnisports de Paris center two years ago.

The above metro map highlights the areas our group walked, but I will focus on the Ministere de l'Economie, des Finances et de l'Industrie building.

Soon after he became president in 1981, Mitterand commissioned a competition to create a new building for the Ministry of Finance in Paris. For the previous 100 years the Ministry of Finance was located in one wing of the Louvre and the museum needed more space for its vast collection. Mitterand supposedly declared, "we must return the Louvre to the history of France."

The business of tax collection has a long history in France. There used to be a wall around Paris for tax purposes -- once a merchant entered the city, he would have to pay a tax on his goods. These douanes or customs duties were a principal taxation device under Louis XIV and his controller general, Jean-Baptiste Colbert.

The Bercy area was just outside of the wall and a sub economy developed where people let out their places so that the merchants (mostly wine merchants) could keep their goods stored outside of the city until ready to sell their items. The government got wise and eventually "pushed out" the walls so that the realm of the taxable area and population grew.

Paul Chemetov and Borja Huidobro won Mitterand's international design competition and their project included a symbolic wall and moat in front of the Ministry of Finance. I thought that was pretty cool. They've placed statues in the "moat."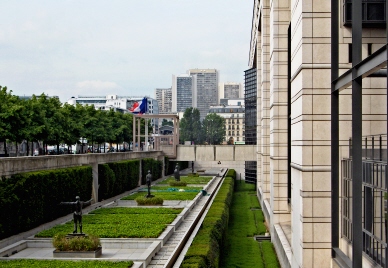 Chemetov and Huidobro's building is in the shape of an aqueduct with two 72 meter arches -- one plunging in the Seine over the quay of Bercy, the other above the street of Bercy -- connected by a succession of smaller arches. Below the arch on the quai de Bercy is a motorboat always ready to bring the Finance minister quickly to the center of Paris. The building holds something like 60,000 civil servants.



A metro on the Pont de Bercy.

There is a whole lot more to the Bercy area, including, the Omnisports center, Bercy Park and Bercy Village, but I was very impressed with the Finance building and didn't take good notes afterward!

-- said Auntie M in Paris
10:55 PM

Comments:
I love your blog so much. It really is a treat to log in and find a new post from you. I especially love that you seem to take full advantage of living in Paris and venture out to see all of the city!
#
posted by
Nic
: 7:57 AM
WOW, just came over here via Michele. You've got a great blog. I truly love France, and have been there several times. I actually saw Bruce Springsteen in Paris many years ago! (How strange is that?) I came via Michele this time, but will DEFINITELY be back on my won next time! Come on by if you get a chance!
#
posted by
Last Girl On Earth
: 8:30 AM
Pardon me for saying so, but it all looks so soul-less. Ah, politics...
#
posted by
Sammy
: 11:42 AM
Post a Comment