Wednesday, May 25, 2005

Tea at the Ritz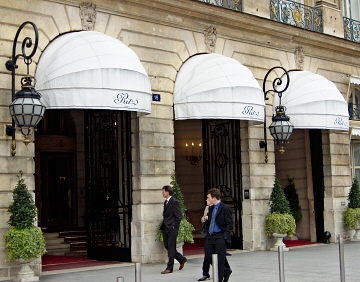 Don't ask me why, but I've always wanted to go to the Ritz. Of course, it's a public place and anyone can walk into the hotel, but I just couldn't do it. Once I entered, wouldn't they know I just don't belong there??

So it was with great anticipation that I accepted an invitation from a friend to have high tea at the Ritz. I walked right in and no one asked me what I was doing there. I met my friends at the Bar Vendome in the hotel, the first door on the left and we all ordered tea.

There was a nice selection of teas. The tea trays were very pretty and some of the desserts actually had little chocolate signs with Ritz or "R" on them. Very cute. There were three trays... one savory and two sweet. Although I normally like the sweet stuff, I hadn't had lunch and would have liked more of the delicious sandwiches, especially the smoked salmon roll.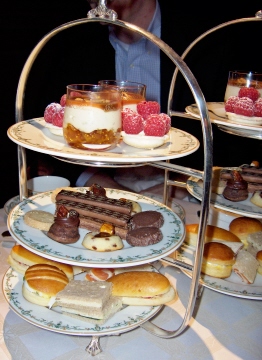 My friends made the tea reservations weeks in advance, but I'm not sure how far ahead of time is necessary. The full tea was 35 euro and we had two pots of fresh tea and lots of food to choose from: sandwiches, scones, rice pudding... The service was a little disappointing. We actually had to spend some of our time just trying to get waiters attention. Overall, a really fun thing to do with some friends and if you have tea late enough, you don't have to worry about dinner!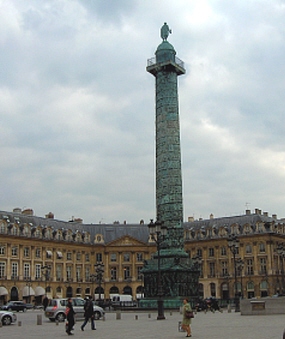 I took this picture as I was leaving the Ritz. It is the Place Vendome column and was erected by Napoleon I from melted-down enemy canons captured during the battle at Austerlitz. At the top is a statue of Napoleon dressed as a Roman emperor.

-- said Auntie M in Paris
9:27 PM

Comments:
Dear Auntie M,
I've been combing the internet for information on French foods that herald the arrival of a religious holiday, but just foods that might be served in a cafe, like the hot cross buns that appear in teashops in England before Easter, pumpkin pie in coffee shops before Thanksgiving or peppermint lattes before Christmas in America.
Most French holiday food seems to be family food served at the holiday dinner at Mother's place in the country.
There are the chocolate fish that appear in confectioners' shops for April first, to give to your favorite April Fish, but they're unlikely to be listed on the chalk board at your corner cafe and April Fool's Day isn't exactly a church holiday.
I read that blood sausage is served for Reveillon, the dinner/breakfast feast after midnight mass on Christmas Eve, in cafes and restaurants that stay open all night specially for that purpose.
Is blood sausage available all year long? Is it just served for Reveillon?
Might blood sausage be served only in the weeks before Christmas, leading the savvy but somewhat absent minded cafe patron to say, "Zut! Blood sausage! I really must start my Christmas shopping"?
I don't know.
Something I do know or at least that I heard: The day after, French papers report how many kilometers of blood sausage were consumed at Reveillon.
The best idea so far was the Beaujolais Nouveau for La Saint Martin on November 11th. I imagined that when the wine was ready it was served in the cafes and you might guess that St. Martin's Day was near (where's my roast goose?).
But, no. I Googled for Beaujolais Nouveau and found out that, since WWI, Armistice Day has usurped La Saint Martin and that, since 1951, Beaujolais Nouveau has had its own day, the third Thursday in November. Oh, help!
My Marling Menu-Master is good but not for this.
Any suggestions?
Anyway, that's how I found your amazing site. Thank you, thank you for sharing Paris. I'll be back for more.
Cheerful regards, C.G. Blick
p.s. I don't see you sharing email addresses, but, just in case, please don't share mine. Thanks.
#
posted by : 7:20 PM
Post a Comment