Wednesday, June 01, 2005

Conciergerie
When I was on an errand on the other side of town this week, I found myself at metro Chatelet. It was a beautiful day and I took some pictures of the conciergerie and the Palais de Justice.

When I finished the Marie Antoinette book last year, I wanted to go see two places: Carnavelet Museum and the conciergerie.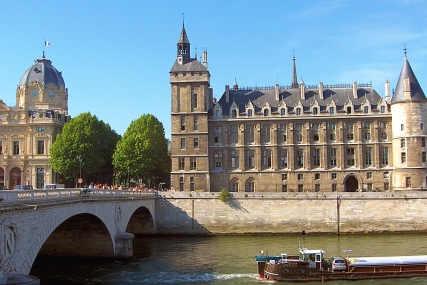 The conciergerie

I've already written about Carnavelet, but haven't mentioned the concierge. The conciergerie was originally a section of palace erected by King Philip IV (1284-1314). This part of the palace was controlled by a person of high degree, the concierge or court official who was the custodian of the royal palace.

The royal family abandoned the palace not long after King Philip's death and moved across the river to the Louvre. In 1391 the concierge was converted into a prison. The conciergerie prison was where Marie Antoinette was imprisoned before her death. You can visit her cell room, which was turned into a chapel to her memory. If you are at all interested in Marie Anoinette, it is worth a visit here.

In 1914, the conciergerie was named a national historical monument and opened to the public.

The conciergerie is part of the Palais de Justice complex on the Ile de la Cite.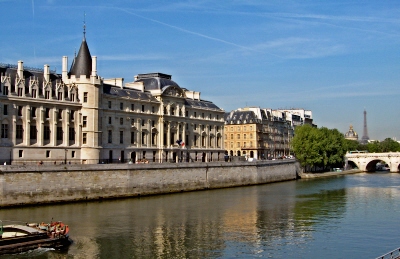 The Palais de Justice

*Update on Neighbor day. Saw the upstairs neighbor and said "bonjour," but she wasn't too thrilled to see me. The day before our landlord had visited her to explain that our apartment walls were still wet from a leak in her apartment (which she thought she had fixed). She kind of grunted at me and I didn't pursue a conversation.

Saw another neighbor at the park (I really only have 5 or 6 neighbors -- it's a small building) and was thinking about saying hello, but, and I'm not joking, her kids were walking on the grass at the park and the park police guy reprimanded her and her kids and she left shortly thereafter. Maybe there will be better neighbor-meeting karma next time.

-- said Auntie M in Paris
11:07 PM

Comments:
Oww, I liked this post. I enjoy seeing (& reading for that matter) parts of history from centuries ago. Makes my mind boggle that there have been many generations of people seeing and being in the same spot as us today. Living in Australia we really don't have much of a history, unlike Europe (for example!) Maybe that is why I enjoy visiting Europe...all that history!
#
posted by
Melody
: 4:48 AM
Post a Comment